OCPL COVID-19 Updates & Resources
---
The Ohio County Public Library is pleased to announce that it will open its doors to patrons for in-person visits by appointment beginning September 21, 2020, Monday through Thursday, 10 – 6; Friday, 10 – 5; and Saturday, 10 – 3. Appointments will be for forty-five minutes and will begin on the hour. Appointments may be made by calling the Library at 304-232-0244 or by using the Library's "Ask a Librarian" button on OCPL's website homepage. For more information, review our reopening press release.
OCPL's online resources are always available, 24/7, 365 days a year! Visit [email protected] for our expanded digital collections.
OCPL is closely monitoring information about the Coronavirus (COVID-19) both locally and nationwide. This is a constantly changing situation and the Library will continue to provide updates on how we are supporting the community and continuing to provide services for the duration of the pandemic. Please continue to check the Library's website for the latest updates on OCPL's response to the COVID-19 pandemic.
---
---
To download printable informational posters, fact sheets from the CDC, and coloring sheets for kids, visit our Document Center and click on the COVID-19 Resources folder.
---
LOCAL CASES
The following are the number of reported cases of COVID-19 in the Northern Panhandle counties as reported by the West Virginia Department of Health and Human Resources (WV DHHR).
AS OF NOVEMBER 27, 2020
---
Ohio County: 1472 ( 485 active ) [ 17 deaths]
Brooke County: 611 ( 219 active ) [ 10 deaths ]
Hancock County: 640 ( 210 active ) [ 4 deaths ]
Marshall County: 1137 ( 450 active ) [ 23 deaths ]
Tyler County: 135 ( 29 active) [ 1 death ]
Wetzel County: 393 ( 72 active ) [ 13 deaths ]
Total Cases in WV: 45,046 ( 15,326 active )
---
Total Deaths in WV: 712
➤ View our chart tracking West Virginia statewide cases and deaths county by county.
➤ View information about our chart.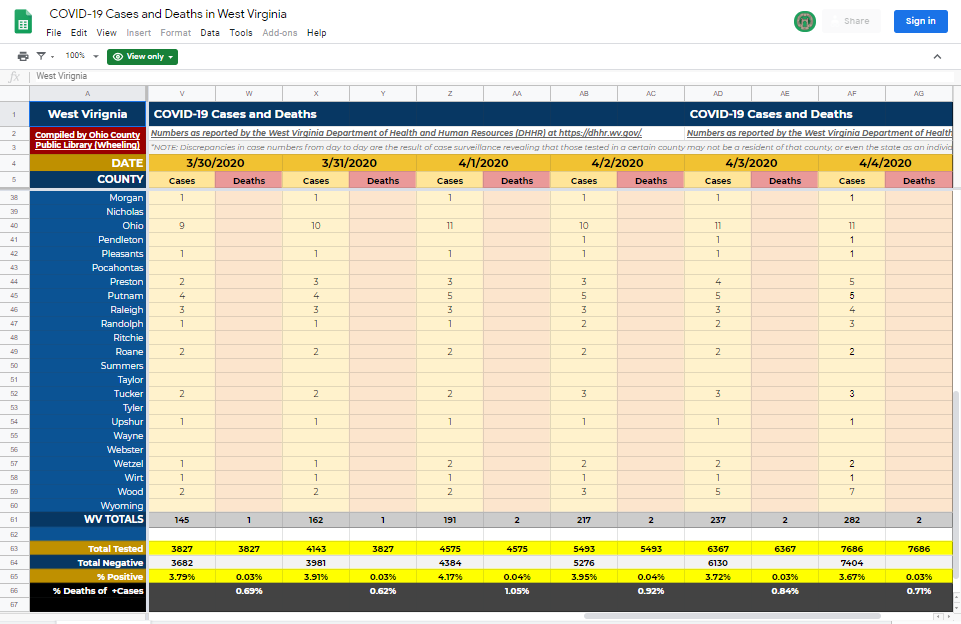 For the most up-to-date numbers in West Virginia, visit http://www.coronavirus.wv.gov/.
---
We are adding resources to our website daily. Please check back for the most up-to-date information.