OCPL COVID-19 Updates & Resources
---
OCPL is closely monitoring information about the Coronavirus (COVID-19) both locally and nationwide. This is a constantly changing situation and the Library will continue to provide updates on how we are supporting the community and continuing to provide services for the duration of the pandemic. Please continue to check the Library's website for the latest updates on OCPL's response to the COVID-19 pandemic.
VACCINATIONS: West Virginians may now pre-register for their COVID-19 vaccination at vaccinate.wv.gov. The COVID-19 dashboard located at www.coronavirus.wv.gov shows the total number of vaccines administered.
➤ WV COVID-19 Vaccine Info Line: 1-833-734-0965
➤ View local vaccination information
---
---
LOCAL CASES
The following are the number of reported cases of COVID-19 in the Northern Panhandle counties as reported by the West Virginia Department of Health and Human Resources (WV DHHR).
AS OF SEPTEMBER 20, 2021
---
Ohio County: 5407 cases | 93 deaths
Active cases: 396
Brooke County: 2733 cases | 63 deaths
Active cases: 186
Hancock County: 3461 cases | 94 deaths
Active cases: 273
Marshall County: 4636 | 92 deaths
Active cases: 421
Tyler County: 1152 | 14 deaths
Active cases: 146
Wetzel County: 2111 | 37 deaths
Active cases: 261
Total Cases in WV: 223,117 ( 25,074 active )
---
Total Deaths in WV: 3370
*At the WV Governor's COVID-19 briefing on April 26, it was announced that the DHHR's epidemiology team conducted a reverse death match by pulling official death certificates. Due to this review, there has been a reduction of 162 deaths from the dashboard as these death certificates did not officially list COVID-19 as the cause of death.
➤ View local vaccination information.
➤ View our chart tracking West Virginia statewide cases and deaths county by county.
➤ View information about our chart.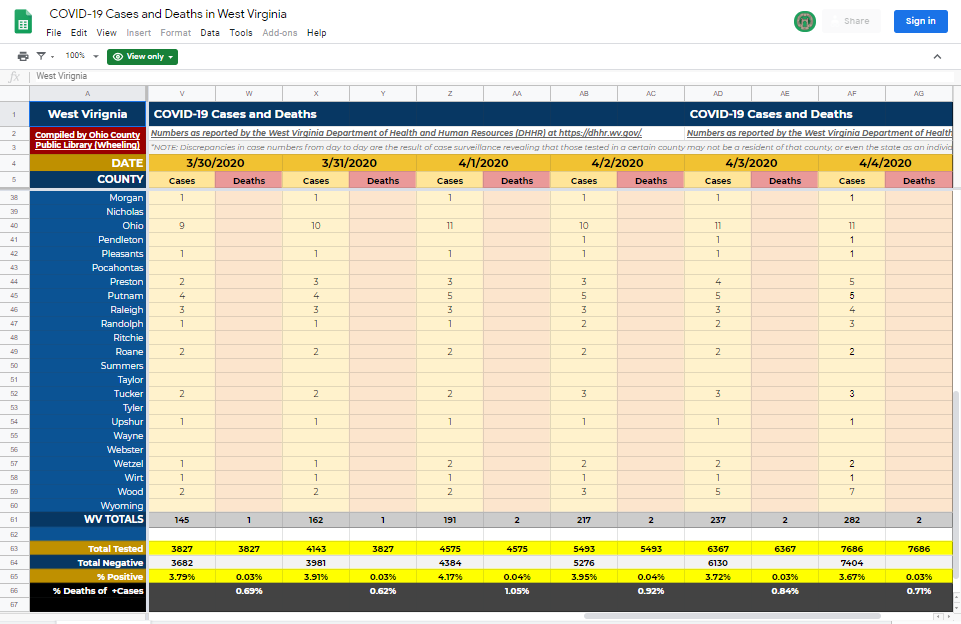 For the most up-to-date numbers in West Virginia, visit http://www.coronavirus.wv.gov/.
---
We are adding resources to our website daily. Please check back for the most up-to-date information.
---
To download printable daily reports from the WV DHHR, fact sheets from the CDC, informational posters, and coloring sheets for kids, visit our Document Center and click on the COVID-19 Resources folder.