OCPL COVID-19 Updates & Resources
---
Dear Library Friends,
Due to concerns over the potential spread of the Coronavirus (COVID-19), the Ohio County Public Library is currently closed until further notice, effective Sunday, March 15, 2020. OCPL is currently open for curbside service and telephone services. We have no plans to reopen to the public, and when we do reopen, it will be with new service guidelines taking into account social distancing and necessary safety precautions. Please continue to check the Library's website for the latest updates on OCPL's response to the COVID-19 pandemic.
While our Library doors might be closed, our online resources are always available. Visit [email protected] for our expanded digital collections.
A message from the OCPL staff:
OCPL is closely monitoring information about the Coronavirus (COVID-19) both locally and nationwide. This is a rapidly changing situation and the Library will continue to provide updates on how we are supporting the community and continuing to provide services while our doors are closed.
---
---
To download printable informational posters, fact sheets from the CDC, and coloring sheets for kids, visit our Document Center and click on the COVID-19 Resources folder.
---
CONFIRMED & PROBABLE LOCAL CASES
The following are the number of confirmed & probable cases of COVID-19 in the Northern Panhandle counties as reported by the West Virginia Department of Health and Human Resources (WV DHHR).
AS OF 10 AM, AUGUST 4, 2020
---
Ohio County: 259 [4 deaths]
Brooke County: 60/1
Hancock County: 100/4
Marshall County: 126/3
Tyler County: 12
Wetzel County: 40
Total West Virginia Cases: 7051
---
Total West Virginia Deaths: 124
➤ View our chart tracking West Virginia statewide cases and deaths county by county.
➤ View information about our chart.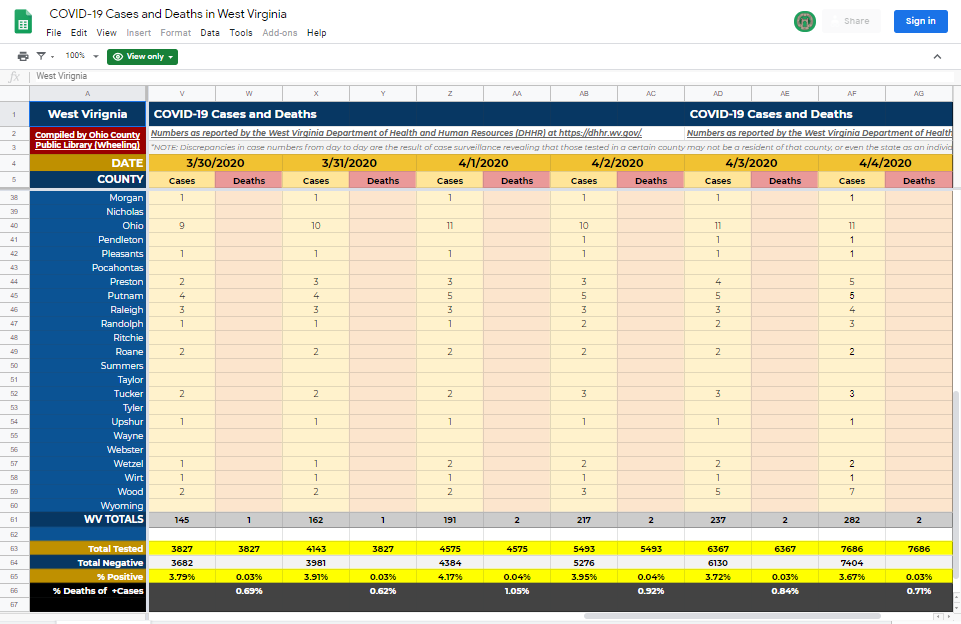 For the most up-to-date numbers in West Virginia, visit http://www.coronavirus.wv.gov/.
---
We are adding resources to our website daily. Please check back for the most up-to-date information.