Newspapers
---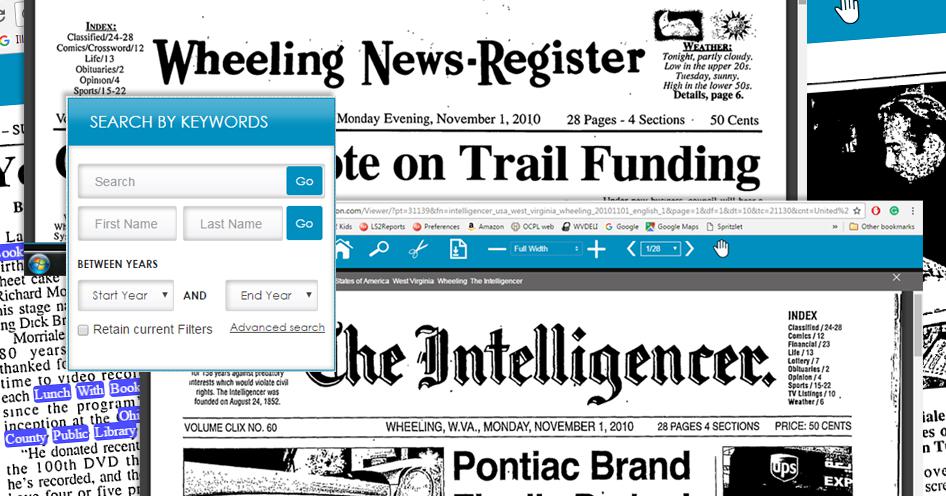 The Ohio County Public Library is now digitizing the microfilmed versions of our Wheeling News-Register and The Intelligencer newspapers.
We currently have Intelligencer newspapers from 1852-1970 and 1981-1982. Both the News-Register and the Intelligencer are available from 2014 to the present with additional selected newspapers from 2010-2013. More dates will be added to our collection as we continue to process our microfilm.
Digital newspapers from Wheeling preceding 1922 are also available through the Library of Congress's Chronicling America website (see below).
---
Chronicling America: Library of Congress Newspaper Archive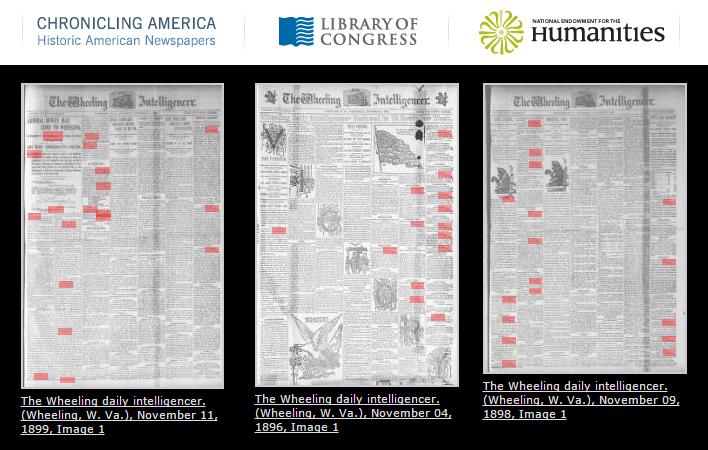 Search America's historic newspaper pages from 1789-1924 or use the U.S. Newspaper Directory to find information about American newspapers published between 1690-present. Chronicling America is sponsored jointly by the National Endowment for the Humanities and the Library of Congress.
The Wheeling Daily Intelligencer is available through Chronicling America from 1852-1922, the Wheeling Daily Register from 1863-1897, theWheeling Repository (weekly) from March 1807 to May 8, 1808, the Virginia Statesman, (weekly) from January 1928 to June 1929, the Wheeling Compiler (weekly) from July 1829 to December 1830 (some issues missing), and the Wheeling Times and Advertiser from 1840-1848. To find Wheeling papers, click the "Advanced Search" tab and either select by state or by newspaper.
---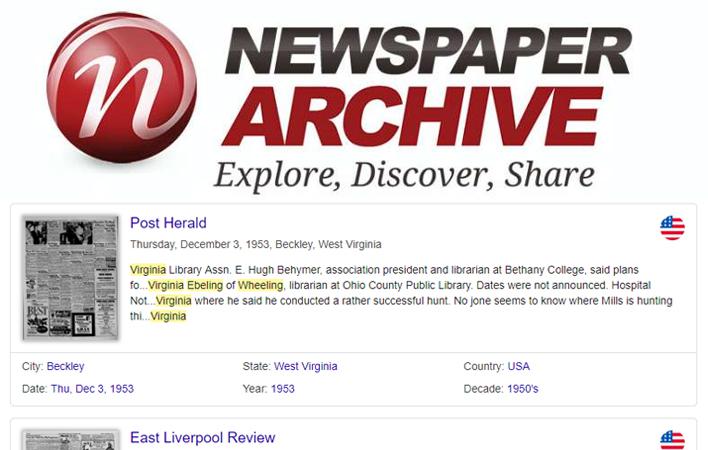 NewspaperARCHIVE.com is the world's largest online newspaper archive that spans more than 400 years of family history, small-town events, world news and more. Many newspapers from towns in West Virginia, Eastern Ohio, and Western Pennsylvania are available. Selected dates are available for the Wheeling Daily Intelligencer (1852-1868); Wheeling Intelligencer (1911-1916); Wheeling Register (1889-1897); Wheeling Sunday Register (1889-1892); and the Wheeling Times And Advertiser (1840-1848).
*PLEASE NOTE: Access to NewspaperARCHIVE is available only on computers inside the Library.
---