Home Delivery Service Expanded to Those at High Risk for COVID-19
---
OCPL PRESS RELEASE - JANUARY 5, 2021:
Are you temporarily or permanently homebound?


Do you no longer drive or do you have difficulty getting to the library?


Are you considered a high-risk for COVID-19?
If you answered yes to any of these questions, you are eligible for our Home Delivery Outreach Services. Being an outreach patron means that books and library materials are delivered directly to your door. This is a free service provided by the Ohio County Public Library.
Any borrowable library material can be delivered to you including:
Books—regular or large print
Audiobooks
Music CDs
Movies
Magazines
Outreach patrons may request specific items and titles or request items to be chosen for them. Our Outreach Services Specialist will work with each outreach patron to select new library materials, place requests and reserves, renew materials, search our catalog, and suggest new titles according to each patron's personal preferences.
A full range of library services are also available to outreach patrons including:
Inter-library loan
Reference assistance
E-reader assistance
Book Club facilitation or assistance
Notary service
Outreach patrons enjoy an extended borrowing period of one month for library materials as well as fine-free borrowing. If you live in a local high-rise or retirement home, our Outreach Services Specialist will typically visit your facility twice each month, according to a regular schedule. Outreach patrons in private residences simply call to schedule a convenient delivery time.
For more information, or to complete a brief application for services, call the Ohio County Public Library at 304-232-0244 and ask to speak to the Outreach Services Specialist, Julia Bachmann.
---
Accompanying image: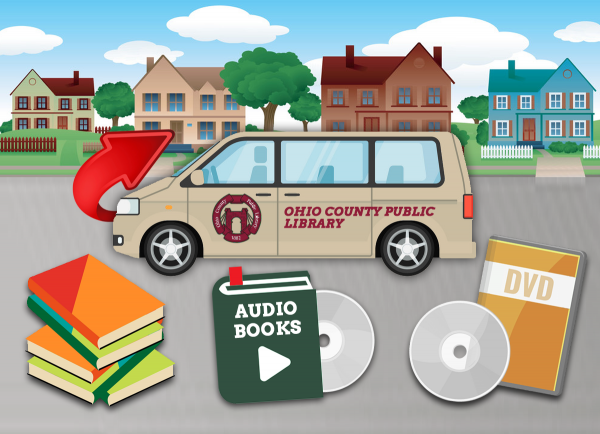 ---