Excursion Steamer Washington, 1934
Excursion Steamer Washington, 1934
WASHINGTON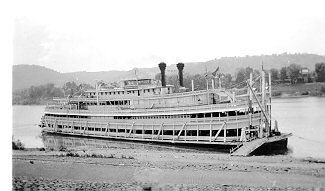 Excursion Steamer Washington at Wheeling Wharf, May, 1934.
She was built in Wheeling in 1880 as Sidney, rebuilt and renamed in 1920. She operated on the Ohio River from Cincinnati and Pittsburgh. Dismantled in 1938. (Way's Packet Directory, p. 481)
Enlargement of this picture
---
|River Transportation Home|OCPL Home|History On-Line|
Service provided by the staff of the Ohio County Public Library in partnership with and partially funded by the Wheeling Natonal Heritage Area Corporation.