Wheeling Hall of Fame: George E. Stifel
1849-1931
Philanthropy
---
Inducted 1980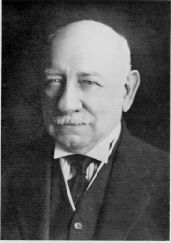 Hundreds of students in the Ohio County schools have been tapped with the pre-college equivalent of Phi Beta Kappa — the Stifel Award.
Each year the income from a $100,000 endowment established by Mr. Stifel is distributed to those achieving academic excellence in grades five through twelve.
The Stifel Award endowment was established by the department store executive in 1926 and, at that time, Stifel asked the young people "to believe that a good education is well worth the ambition, patience, work and sacrifice it may require."
George E. Stifel was born in 1849 in Wheeling and educated in local schools. His father, John L. Stifel, was nationally prominent in the textile business.
A young George began a long and successful career in merchandising at the age of 14 when he entered the employ of Stone & Thomas, where he remained for five years. He clerked for 10 years in another dry goods store before he and Fred C. H. Schwertfeger formed a partnership to launch what became the George E. Stifel Co., a dry goods store that grew to be one of Wheeling's outstanding department stores.
Mr. Stifel's death in 1931 prevented him from putting into motion a scholarship plan which he had contemplated. However, his daughter, Nellie, implemented her father's plan and in 1951 the George E. Stifel Scholarship Fund was established.
The first three awards were made in the academic year of 1953-54 and since then the awards have been made at an increasing rate.
---
Text and pictures provided by Wheeling Hall of Fame. Service provided by the staff of the Ohio County Public Library in partnership with the Wheeling Hall of Fame Committee.
Hall of Fame Index | People of Wheeling Home | Wheeling History Home | OCPL Home