Wheeling Hall of Fame: Earl W. Oglebay
1849-1926
Philanthropy
---
Inducted 1980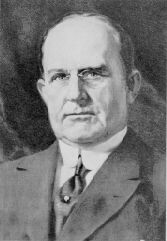 The reason for the election of Earl William Oglebay to the Wheeling Hall of Fame would be obvious to anyone who drives out Route 88 to see the magnificent municipal park that bears his family name.
Earl W. Oglebay not only deeded his Waddington Farm to the City of Wheeling, he instilled such a sense of civic responsibility in his family that his nephew, Crispin Oglebay, founded Oglebay Institute to assure that the city would accept the farm. Oglebay's grandson, Courtney Burton, has continued the family interest in a generous manner.
During Earl Oglebay's lifetime his farm was a center for scientific agricultural research, particularly in the breeding of sheep and dairy cattle. And, disturbed by the lack of advantages afforded children reared on West Virginia farms, Oglebay encouraged the movement that resulted in the now far flung 4-H organization.Earl Oglebay was born in Bridgeport, Ohio, in 1849. The family moved to Wheeling shortly thereafter. Oglebay attended Hardings Academy in Wheeling, the Kenwood School in New Brighton, Pa., and received his bachelor's degree from Bethany College in 1871.
At West Virginia University, he was named to Phi Beta Kappa.
Oglebay worked as a salesman in his father's wholesale grocery business and then as a clerk in the National Bank of West Virginia where his father was president. Later, when his father retired, he became, at 28, the youngest bank president in the nation.
Earl W. Oglebay's career later turned to an interest in the Benwood Iron Works Company, the Bellaire Nail Works, and the iron ore industry. These became the huge Oglebay, Norton and Company.
After Oglebay disposed of most of his iron ore mines at the turn of the century by selling them to United States Steel, he returned to Wheeling from Cleveland, where he had moved in 1887 to manage his businesses. He bought his farm in Ohio County and fulfilled a boyhood dream by raising blooded horses and cattle.
The agriculture building at WVU was named in his honor in recognition of his work in the interest of agriculture and education in the state.
Mr. Oglebay died on June 22, 1926.
---
Text and pictures provided by Wheeling Hall of Fame. Service provided by the staff of the Ohio County Public Library in partnership with the Wheeling Hall of Fame Committee.
Hall of Fame Index | People of Wheeling Home | Wheeling History Home | OCPL Home