Tax Assistance Program Will Be Drop Off Only This Year
---
NOTE: The tax service for 2021 has ended. Services are no longer available for this year.
OCPL PRESS RELEASE - JANUARY 26, 2021:
The free tax preparation offered every year at the Library by the VITA (Volunteer Income Tax Assistance) program will work a little differently this year than in years past. This year, taxes will be completed through a drop-off process. Packets will need to be picked up and taxpayers will need to schedule two meetings with VITA at the Library - one to go over your packet forms and verify IDs, and one to review and sign your return.
The first step in the process is to fill out a tax packet consisting of 3 forms and a set of instructions. You may pick up a packet including an IRS envelope, outside the Eoff St. entrance to the Library (packets will not be available at the 16th St. entrance). Each packet, enclosed in the IRS return envelope, will contain drop off instructions and all the required paperwork necessary to complete to schedule an appointment with a tax volunteer.
Alternatively, you may also submit your information online (contactless) at https://vitaocpl.com (service coming soon). If you would rather download the forms to fill out, you will be given an IRS envelope at your first appointment. Note: For prior year returns and amended returns, you will have to use the drop-off service.
If you need assistance at any point, contact VITA directly. Please note that the VITA program is independent of the Library and Library staff will not be able to answer questions. All questions regarding taxes need to be directed to VITA. You may call them directly at 304-232-8985 during the hours VITA is open: Mon - Thurs, 10 am - 5 pm; Friday, 10 am - 4 pm; and Saturday, 10 am - 2 pm.
---
The following paperwork is included in the packet.
The sections outlined in yellow are required to be filled out.
IRS Form 14446 - Taxpayer Consent form:
• Page 1 - Give site information and explains how to contact the Wheeling VITA program. Keep this page.
• Page 2 - Describes how this year's drop off at the Library works. Review and keep this page.
• Page 3 - Provide a valid telephone number; You AND your spouse (if applicable) must BOTH sign and date the form.

Form 13614-C (Yellow Intake/Interview sheet):
Note: If you choose to download the pdf forms from home to print and fill out rather than pick up a packet, the downloadable online form will not be yellow. Only the paper forms in the packets will be yellow.
• Fill out the first 3 pages.

Taxpayer Questionnaire:
• Complete your STATE section.
• Complete the ALL TAXPAYERS section.
Enclose everything in the provided IRS envelope
• Include all of the forms you filled out.
• Also include all of your 2020 Tax Forms (W-2s and any other tax forms) and any additional information that is required to complete your return (proof of deductions/credits, childcare provider number, etc.).
Once your paperwork is complete, you will need to schedule an appointment to review your filled out paperwork and show your Federal or state IDs AND social security cards to tax volunteers.
To schedule an appointment:
- Call 304-232-8985 during VITA's open hours: Mon - Thurs; 10 am - 5 pm; Friday 10 am - 4 pm; and Saturday 10 am - 2 pm.
- Or visit https://calendly.com/vitaocpl/dropoff on your phone, tablet, or computer and choose an available open day and time.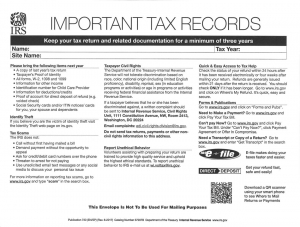 At your appointment, you will be admitted to the Library at your scheduled time, observing all Library rules including the mandatory wearing of masks and social distancing. You should arrive at your appointment with all your forms filled out and signed, then placed inside the IRS envelope along with all tax forms and information needed to prepare the return. During your appointment, an intake volunteer will verify that you have provided the required consents on Form 14446 that allow VITA to proceed with your return. For joint returns, BOTH the primary and secondary taxpayer MUST SIGN page 3 of Form 14446.
Bring with you:
- Your completed packet
- Your ID and that of your spouse (if applicable)
- Social security cards for everyone whose name appears on your tax return.
Note: You may bring a copy of all your IDs and cards OR VITA volunteers can copy them for you during your appointment.
All your documents are kept in the intake person's custody until a VITA volunteer takes them directly to the Tax Room in the lower level of the Library where they are secured as required.
What happens next?
When one of the tax preparers begins the preparation of the taxes, he or she will call you and perform an interview over the phone. The tax preparer will prepare the return and call again if any questions arise during the preparation. Once the tax return is complete, the tax preparer will once again call to schedule the quality review with a different tax preparer. The scheduled time is put on the reviewer's calendar. The quality review is done in person at the Library observing all Library rules including the mandatory wearing of masks and social distancing. Each taxpayer will be able to see their return on a computer monitor controlled by the quality reviewer at the scheduled review and a printed copy of the return will be presented to the taxpayer during the review. Form 8879 will need to be signed in the presence of the quality reviewer for taxpayers present at the review.
The e-file folder for the return is given to the e-file administrators for filing. Most returns are filed the same day as the return is signed, but always within 24 hours unless there is a Sunday, holiday, snow day, or an unexpected situation that forces the Library to close. Taxpayers will be contacted by phone if there are any e-file issues they need to help resolve.
If you have questions, please call VITA directly during their open hours at 304-232-8985.
The drop off service will be offered at the Library from January 25 through April 15, 2021.
- Download a pdf of VITA's drop-off instructions here.
---
About the VITA Program: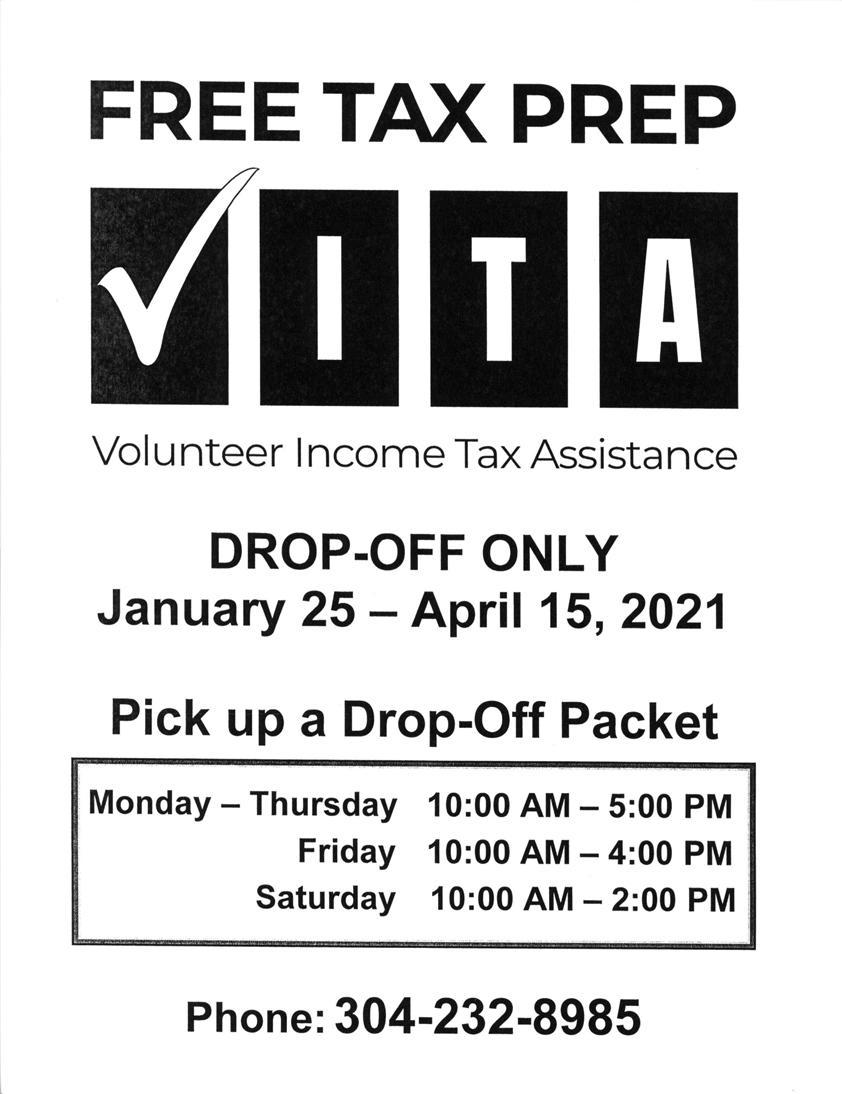 The mission VITA is to provide free basic tax return preparation for low-to moderate income and elderly taxpayers. The IRS is responsible for providing oversight requirements to Volunteer Income Tax Assistance (VITA) and IRS certified volunteers contact you, prepare, and quality review your taxes.
Though VITA sets up its service in the Library every year, VITA is not a Library program or service. They are an organization independent of the Library. Library staff do not have access to any of the tax information or records and cannot answer questions related to the VITA program. All questions regarding the VITA program must be directed to the on-site VITA volunteers during their open hours. The VITA phone number is 304-232-8985.
2021 hours for Wheeling VITA:
Monday: 10 am - 5 pm
Tuesday: 10 am - 5 pm
Wednesday: 10 am - 5 pm
Thursday: 10 am - 5 pm
Friday: 10 am - 4 pm
Saturday: 10 am - 2 pm
Sunday: closed
---
Accompanying image: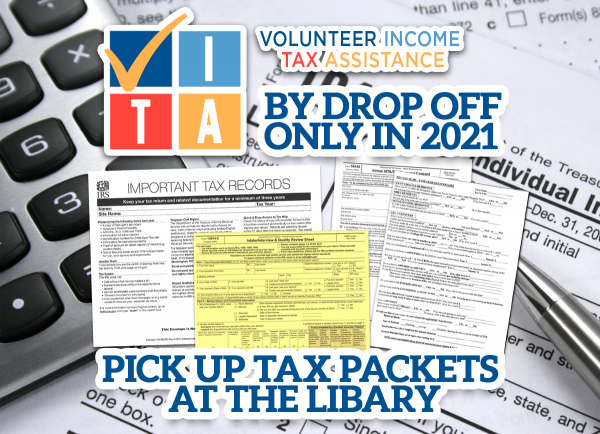 ---