The S-Bridge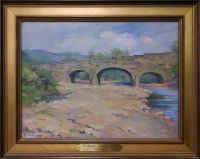 The "S" bridge was located on National Road in Triadelphia at the intersection of Peter's Run and National Road. The bridge was so named the "S" bridge after the "S" shape of the road that passed over the bridge, which can be seen in an 1886 photo from the OCPL's Brown Collection [ -Click here to view photo- ]
Crossing Wheeling Creek just east of Elm Grove, the Triadelphia "S" bridge was one of a series of stone bridges built along the National Road. The historic toll road now known as US Route 40 crossed many small tributaries of the Ohio River is it wound through the Ohio Valley. Building these bridges to cross streams over areas of shortest distance often put the spans at odds to the general direction of the road, creating the namesake "S" shapes.
Though US Route 40 still crosses Wheeling Creek at this spot, the historic stone bridge has been replaced with a modern steel bridge.
S-Bridge in Souvenir Views of Wheeling.
---
-- From the Ohio County Public Library's Special Collection, Paintings of Old Wheeling by John Joseph Owens
About the Paintings of Old Wheeling Collection
Twelve paintings of Old Wheeling by John Joseph Owens (1887-1931) are on exhibit in the Wheeling Room at the Ohio County Public Library, Wheeling, WV. The paintings were commissioned by George A. Laughlin to show scene characteristic of Old Wheeling were presented to the library and are now a part of the Library's permanent art collection.
---
Wheeling Room Index | Wheeling History Home | OCPL Home
---