Genealogy Resources
---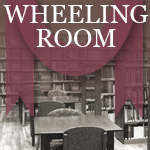 The Ohio County Public Library houses a substantial collection of material related to Wheeling's rich history. Local and regional history books and magazines, city directories, cemetery indexes, yearbooks, family histories, and more grace the shelves of the Library's Wheeling Room. Materials in the Wheeling Room are available to be viewed by the general public during all open Library hours.
Because of the unique and in some cases irreplaceable material located in the Wheeling Room, the Wheeling Room remains locked at all times. Access to the Wheeling Room is granted at the Reference Desk. Bags, purses, and backpacks are not allowed in the Wheeling Room. *Lockers are available upon request for personal items not allowed in the Wheeling Room (*NOTE: Lockers are only provided for patrons and researchers using the Wheeling Room). Notebooks, laptops, tablets and other recording materials are permitted.

Our genealogist is generally available from 9 am to 5 pm, Monday through Friday, for research assistance in the Wheeling Room.
---
GETTING STARTED:
---