Newspapers on Microfilm
---
Though many of our newspapers are now available online, the Library still houses an extensive physical microfilm collection on-site.
In addition to the Wheeling Intelligencer (1856-present) and the Wheeling News-Register (1863-present), other newspapers available on microfilm at the Ohio County Public Library include:
The Wheeling Repository, (Select issues from 1807-1808)
Virginia Statesman, (January 2, 1828-June 24, 1829)
Wheeling Compiler, (July 1829 through December 1830)
Wheeling Tri-Weekly Times/Wheeling Times and Advertiser/Western Virginia Times, (February 1, 6, 1834; July 14, November 28, 1840; October 31, 1932)
Wheeling Argus/Weekly Western Virginia Argus, (January 8-December 23, 1847; October 21, 1852; April 21, 30, May 26, December 27, 1855)
Deutsche Zeitung, (German-language publication, one issue: May 24, 1907)
Four microfilm readers are available for public use in the Library's main floor near the Periodical section. Microfilm reels are housed behind the Circulation Desk. Black and white copies can be made from the readers for 10 cents per page.
---
Microfilm readers at the Ohio County Public Library: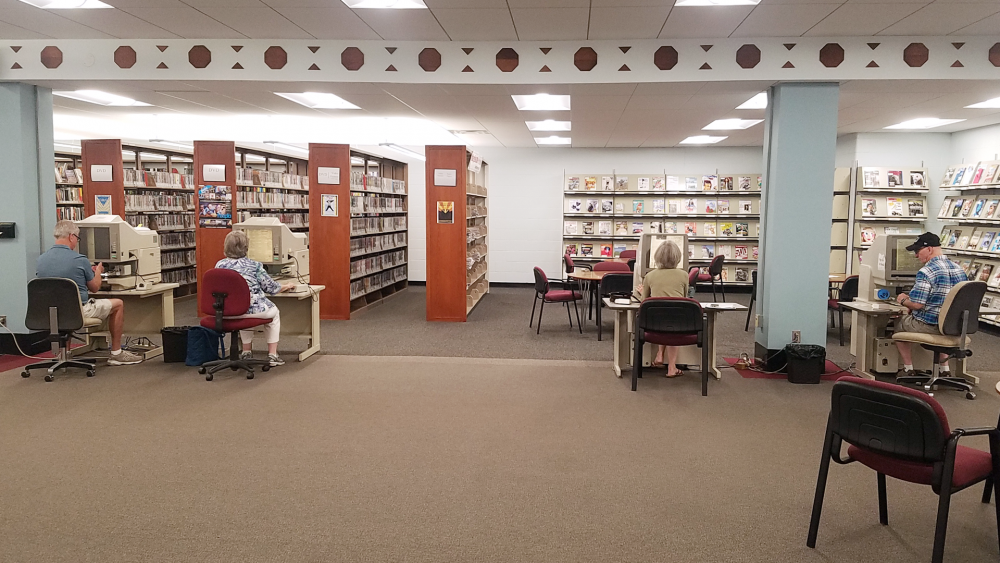 ---