The Brown Collection of Photographs
---
The Brown Collection of Photographs are photographs of Wheeling in the 19th and early 20th century. As one of the most important collections held by the Ohio County Public Library, they are available for viewing by appointment only. They have been converted to electronic format for display. Each of the 94 pictures can be viewed at your leisure on this site.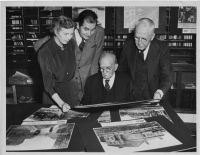 The photographs were donated to Ohio County Public Library in 1950 by W.C. Brown, one of the city's first photographers. The pictures were taken by Brown and his father, according to an article in the News-Register. They had been recently restored by George Kossuth.
Left: Picture of W.C. Brown donating the collection
The photos have been scanned to preserve as much of the artistic quality and style of the original as possible. If you would like a high resolution copy of a photo from this collection, please make a request through the OCPL contact form.
The indexes of Brown Photographs are organized by the dates on each picture. The dates may not reflect the actual date the photograph was taken, but it is relative to the subject. In many cases, they are are simply the date a building was started.
---