W.C. Brown Photo 15
The Brown Collection of Photographs
Photograph 15 of 94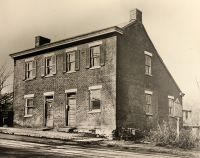 1837
Double house supposed to have been built by the Zane brothers in 1837, for the toll keepers of the wooden bridge that spanned the back river. It stood on Zane Street.
[Click photo to view an enlarged image]
Previous Photograph | Next Photograph
---
Brown Collection Main | 1800-1842 | 1849-1884 | 1885-1887 | 1888-1892 | 1893-1911 |
---
Wheeling History Home | OCPL Home | Wheeling's Bridges
If you would like a high resolution copy of a photo from this collection, please make a request through the OCPL contact form.