W.C. Brown Photo 35
The Brown Collection of Photographs
Photograph 35 of 94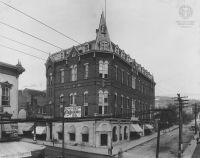 1880
The Grand Theatre. This structure stood on the corner of 12th and Market Streets. It was one of the old Wheeling's most popular theatres. The German Bank occupied the ground floor.
[Click photo to view an enlarged image]
Previous Photograph | Next Photograph
---
Brown Collection Main | 1800-1842 | 1849-1884 | 1885-1887 | 1888-1892 | 1893-1911 |
---
Wheeling History Home | OCPL Home
If you would like a high resolution copy of a photo from this collection, please make a request through the OCPL contact form.