W.C. Brown Photo 50
The Brown Collection of Photographs
Photograph 50 of 94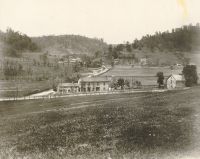 1886
Frank Walters road house on the site of the present Vance Memorial Church. Bethany Pike shows in center of the picture and Woodlawn is to the left.
[Click photo to view an enlarged image]
Previous Photograph | Next Photograph
---
Brown Collection Main | 1800-1842 | 1849-1884 | 1885-1887 | 1888-1892 | 1893-1911 |
---
Wheeling History Home | OCPL Home
If you would like a high resolution copy of a photo from this collection, please make a request through the OCPL contact form.