W.C. Brown Photo 54
The Brown Collection of Photographs
Photograph 54 of 94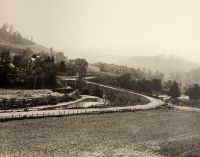 1886
The S Bridge, Elm Grove, looking west from point where present animal hospital stands.
(Additional copy of photograph includes differing caption: "1888: A wonderful picture of the old S bridge made from the site of Doctor Groppe's hospital.")
- Photo credit given to J. L. Kimmins
[Click photo to view an enlarged image]
Previous Photograph | Next Photograph
---
Brown Collection Main | 1800-1842 | 1849-1884 | 1885-1887 | 1888-1892 | 1893-1911 |
---
Wheeling History Home | OCPL Home | Wheeling's Bridges
If you would like a high resolution copy of a photo from this collection, please make a request through the OCPL contact form.