W.C. Brown Photo 90
The Brown Collection of Photographs
Photograph 90 of 94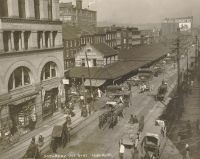 1901
Market Street on a typical Sunday morning. The present Market House* stands on the same site. Note the man coming down the street carrying two barrels, also the beer wagon in the center.
*in the 1950s
[Click photo to view an enlarged image]
Previous Photograph | Next Photograph
---
Brown Collection Main | 1800-1842 | 1849-1884 | 1885-1887 | 1888-1892 | 1893-1911 |
---
Wheeling History Home | OCPL Home
If you would like a high resolution copy of a photo from this collection, please make a request through the OCPL contact form.