Biography: Louis Bennett, Jr.
---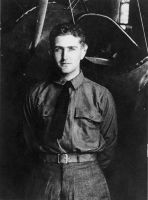 Lt. Louis Bennett, Jr. (1894-1918), an avid supporter of preparedness and aviation, became West Virginia's only World War I flying ace. In founding the West Virginia Flying Corps, Bennett sought to train a cohesive combat unit "ready to serve" West Virginia and the Nation. He founded the West Virginia Aircraft Company (with a plant on Hess Avenue in Warwood), flew from an airfield in Beech Bottom, and maintained an office in Wheeling's Schmulbach Building. To stimulate local interest, the West Virginia Flying Corps offered a free flight around the Ohio Valley. The number of people who came to fly was so numerous and the crowd so large that, as darkness neared, lots were drawn to determine who would go aloft. Bennett died in battle over France on August 24, 1918 serving as a member of the British Royal Air Force. Bennett's mother honored her son and the Royal Flying Corps with a stained glass window for London's Westminster Abbey. She also commissioned a memorial bronze statue, "The Aviator," in 1925. It still stands on the campus of Linsly School.The Bennett Memorial Museum, featuring Louis's war trophies, antique firearms, curios, and relics, opened on the second floor of the old Wheeling Public Library on Market Street in 1920. "With the exception of the Museum of Natural History in New York City," the Wheeling News-Register bragged, "it is doubtful if there is another such collection of world relics."
(Dr. Charles A. Julian for Legendary Locals of Wheeling)


Charles Lindbergh Visits the Aviator Statue
---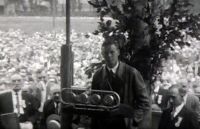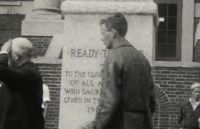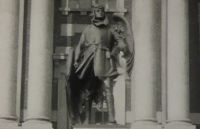 On August 4th, 1927, Charles Lindbergh visited Wheeling and placed a wreath on the Aviator Statue on the campus of the Linsly Military Institute. The event was witnessed by a very large and enthusiastic crowd of spectators, as can be seen in the rare archival footage, filmed by local businessman, Charles E. Wemple. You can watch the clip in its entirety below. The footage is from the Wemple Films collection at the Ohio County Public Library Archives.
---
Biographies Index | People of Wheeling Home | Wheeling History Home | OCPL Home