W.C. Brown Photo 82
The Brown Collection of Photographs
Photograph 82 of 94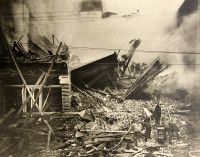 1895
On April 9, the Hutchinson and Chapman buildings 13th and Main, collapsed and burned. Six people were burried alive in the ruins and killed. Six others were injured but recovered. The Wheeling Intelligencer called this the "greatest disaster in the history of the city."
- Photo credit given to J. Smith
[Click photo to view an enlarged image]
Previous Photograph | Next Photograph
---
Brown Collection Main | 1800-1842 | 1849-1884 | 1885-1887 | 1888-1892 | 1893-1911 |
---
Wheeling History Home | OCPL Home
If you would like a high resolution copy of a photo from this collection, please make a request through the OCPL contact form.