NEW Upper Ohio Valley Historical Review (Winter 2022) Available Now!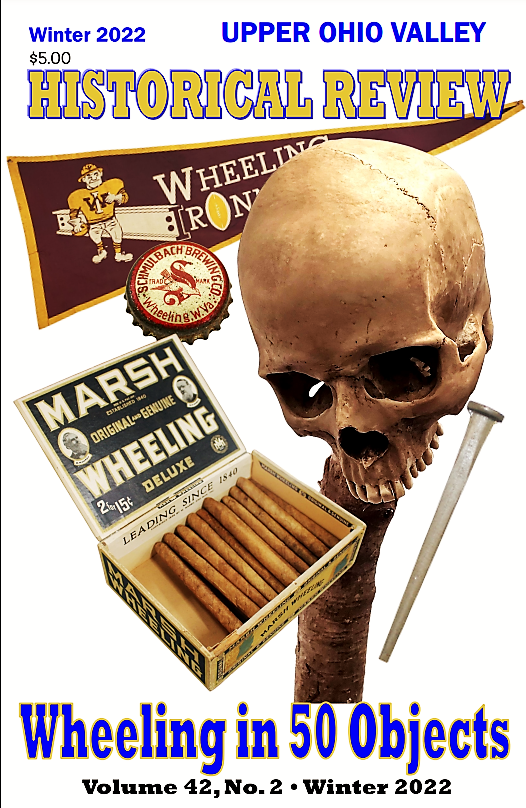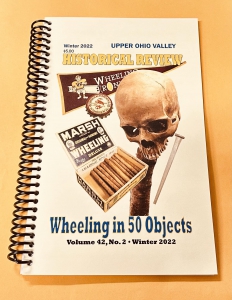 Print edition now available at the Circ Desk while supplies last!
---
Digital Copy Available Now: https://bit.ly/3Q2bDoS

Dear UOVHR Readers:
This edition was originally planned as part of the Wheeling 250 observance of 2019—which would have meant the enormously challenging prospect of identifying 250 objects! As often happens with plans, reality intervened, and those plans were changed.
Our goal with this edition is more modest and manageable:
Even so, there were difficult questions to answer: What is an "object"? Is it small like a cigar, or can it be huge, like a building? Does the object still have to exist somewhere? And the most difficult question of all: Which objects are most quintessentially Wheeling?
We decided to keep part of the 250 observance to help define the theme, ie, the symbolism of the relatively new city flag of Wheeling, which was designed and implemented for the Wheeling 250 project in 2019. Specifically, the flag's symbolism serves as a guide. And since many people probably don't know the intended meaning behind the symbols, this presents a very good learning opportunity.
The horizontal blue bars, for example, represent the Ohio River and Wheeling Creek. Adding the white field, the three bars together represent the primary modes of transportation, historically: River, Road, and Rail. Each of the five gold navigation stars on the flag represent a major era from the city's past: Indigenous; Frontier; Transportation; Statehood; and Industrialization.
All of this information can be found on the city's website at
https://www.wheelingwv.gov/city-seal-flag.
Further defining the term "object," we decided that, if human-made, they must be relatively small and moveable (even if a machine is needed for lifting). So objects that are attached to the land and essentially immovable, are disqualified. Otherwise we might spend the entire issue talking about famous buildings! Natural objects, altered by humans, with historical significance, can be huge. More later on that point (see page ).
Regarding the question of "existence," we compromised. If an object is so quintessential such that it's exclusion would offend the intellect, and if said object was almost certainly real and tangible at one time, and if we believed it had been recreated with reasonable certainty as to its probable appearance, it has been included.
So, with those caveats in mind, we hope you enjoy our look at the Friendly City in 50 Objects, wherever they might now reside.
And if you think we excluded something vital that should have been included, feel free to berate us on social media, by snail mail, by email, or even in person. But please keep in mind that our hearts were in the right place and be polite. We'll return the favor. And we will publish a list of key omissions based on your feedback.
What's more, we'll be hosting an exhibit and programs based on this theme next Spring. Check the OCPL website calendar for details in the New Year.
Happy reading.
Sean Duffy, Editor
---
Part 1: The Indigenous Star—The Irreplaceable Legacy of Wheeling's Ancient Indigenous Peoples by Hank D. Lutton

Part 2: The Frontier Star — Romancing Reality: Wheeling's
First European Settlers by Christina Fisanick

Part 3: The Transportation Star—Rivers, Rails, and the Road: Wheeling as a Transportation Hub by Dr. David Javersak

Part 4: The Statehood Star—A Star is Born: Wheeling During the Civil War by Dr. Joseph Laker

Part 5: The Industrial Star — Stogies & Steel by Seán P. Duffy

Civic Empathy Through History Exhibit Now Open
---
OCPL provides a digital online copy of the current UOVHR for free (.pdf file - 9.75 MB).
---
Want a Print Copy?
Paper copies are currently being printed and will be available soon. Individual copies are $5.00 each (cost) plus $3 shipping ($8 total). Click here to pre-order (helps us determine how many copies to have printed).
If you'd like a copy sent your home address, please send a check to:
UOVHR
c/o Ohio County Public Library
52 16th Street
Wheeling, WV 26003
Please make all checks or money orders out to "Ohio County Public Library" with memo note of "UOVHR."
If you've already sent your check to the Library, your copy is currently in production and we will ship it to you when it is ready.
---
Looking for back issues of the UOVHR?
We're working on digitizing all of the previously published UOVHR in a format that makes the text searchable while still keeping file sizes small. We currently have years 1968-1980 digitized.
- Visit our "Document Center" and click on the "Upper Ohio Valley Historical Review" folder to access these pdfs.