Upper Ohio Valley Historical Review
---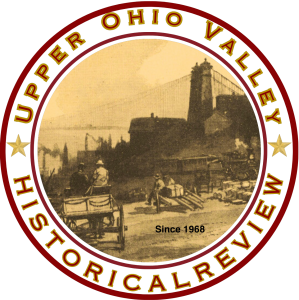 First started by the Wheeling Area Historical Society in 1968, The Upper Ohio Valley Historical Review is the only publication of its kind in the northern panhandle of West Virginia. Dedicated solely to local history topics, it has become a treasured publication and valuable tool for studying and learning about our geographic area.
Wheeling National Heritage Area Corporation (WNHAC, later Wheeling Heritage) continued the tradition, editing and publishing the Review from 2010-2018.
Ownership of the UOVHR publication was transferred in the second half of 2018 to the Ohio County Public Library in Wheeling. Articles in Volume 41, No. 1 were coordinated by then editor Rebekah Karelis, former historian for Wheeling Heritage, with the Ohio County Public Library taking on the responsibility of editing and publishing Heritage's final Review.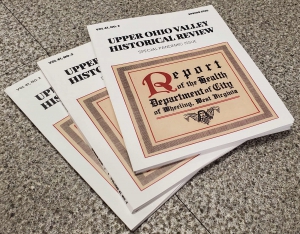 Volume 41, No. 2, a special Pandemic Edition of the UOVHR was the first edition completely designed and coordinated by the Ohio County Public Library.
The latest edition published by the Library is Volume 43, No. 1, Spring 2023: Warwood - The Evolution of Watch Us Grow.
UOVHR content has historically included articles, transcribed documents, book reviews, and accounts of the economic, political, social, and cultural history of the greater Wheeling area contributed by historians and scholars. OCPL looks forward to publishing the UOVHR and continuing this great tradition for years to come.
➤ Sign up to receive an email notification when the next issue is available.
---
Looking for back issues of the UOVHR?
We're working on digitizing all of the previously published UOVHR in a format that makes the text searchable while still keeping file sizes small. We currently have years 1968-1980 digitized.
➤ Visit our "Document Center" and click on the decade folders under the "Upper Ohio Valley Historical Review" folder to access these pdfs.