NEW Upper Ohio Valley Historical Review Vol. 42, No. 1 - Spring 2022 - Now Available!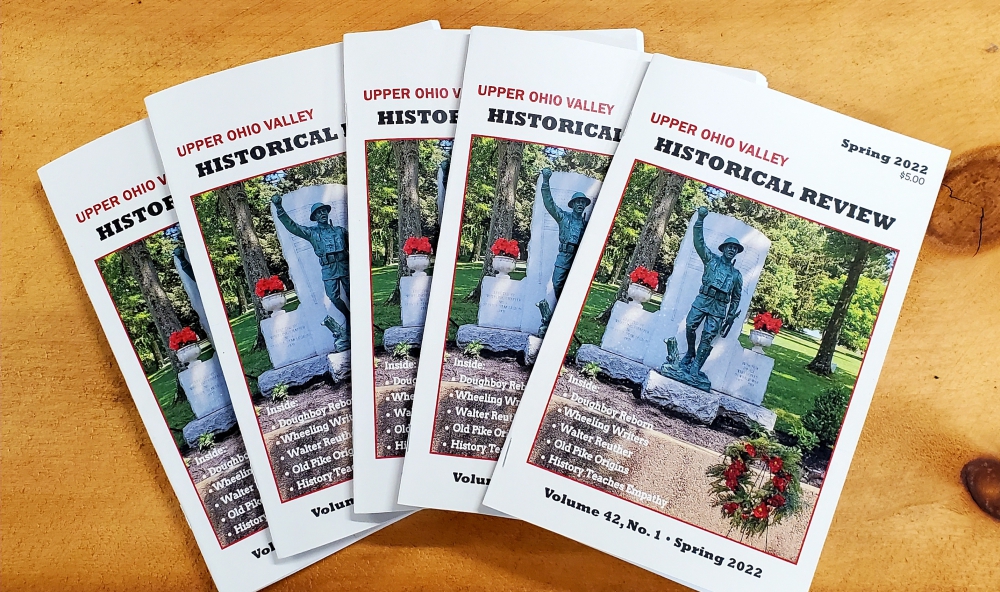 Digital Copy Available Now: https://bit.ly/3wJxjga

Dear UOVHR Readers:
Two years is a long time. Too long.
That's how much time has passed since our last issue, Volume 41, Number 2, the "Special Pandemic Issue" published Spring 2020 at the beginning of our long, COVID-19 nightmare. What can we say? We're very sorry for the delay.
But the road to Volume 42 has been a rocky one, beset with staff medical issues, major staff changes, and a continuing global pandemic. Nevertheless, we are back, and we think you will be quite satisfied with this new, comeback issue of the Upper Ohio Valley Historical Review. It's packed with informative, well-researched articles by fine writers and scholars, including George Fetherling, Jeffrey Mason, Billy Joe Peyton, and Dan Bonenberger.
Many of these articles were written for special events that have come and gone, such as the 200th anniversary of the construction of the National Road, the 50th anniversary of Walter Reuther's death, and the rededication of the "Spirit of the American Doughboy" monument at Wheeling Park after a grueling and long-delayed restoration. But the history they record and interpret remains relevant and engaging.
We hope you enjoy Volume 42, Number 1 of the Upper Ohio Valley Historical Review as much as we enjoy getting back on track to keep this proud and important tradition going.
---
Welcome Home: Wheeling's Doughboy is Back and Better Than Ever by Seán P. Duffy
Wheeling and Its Writers by George Fetherling
Walter P. Reuther Remembered 50 Years After His Death by Jeffrey W. Mason
Surveying and Constructing the National Road, America's First Interstate Highway by Billy Joe Peyton
Extra Bridges for Lydia? The National Road Controversy from the Potomac to the Ohio, 1806-1818 by Dan Bonenberger
Fort Necessity National Battlefield by Hilary Miller
Special Project: Civic Empathy Through History by OCPL Staff
OCPL provides a digital online copy of the current UOVHR for free (.pdf file - 9.75 MB).
---
Want a Print Copy?
Printed commemorative paper copies are currently being printed and will be available soon. Individual copies are $5.00 each (cost) plus $1 shipping ($6 total). Click here to pre-order (helps us determine how many copies to have printed).
If you'd like a copy sent your home address, please send a check to:
UOVHR
c/o Ohio County Public Library
52 16th Street
Wheeling, WV 26003
Please make all checks or money orders out to "Ohio County Public Library" with memo note of "UOVHR."
If you've already sent your check to the Library, your copy is currently in production and we will ship it to you when it is ready. *NOTE: Subscriptions that had been paid to Wheeling Heritage will be honored through the end of the payment schedule.
---
Looking for back issues of the UOVHR?
We're working on digitizing all of the previously published UOVHR in a format that makes the text searchable while still keeping file sizes small. We currently have years 1968-1980 digitized.
- Visit our "Document Center" and click on the "Upper Ohio Valley Historical Review" folder to access these pdfs.