Wheeling Hall of Fame: Simon P. Hullihen
1811-1847
Public Service
---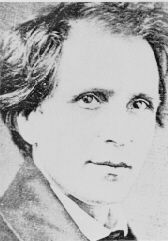 Inducted 1982
Dr. Simon P. Hullihen has been justly acclaimed as "The Father of Oral Surgery" but in his lifetime he struggled against prejudice, scorn and skepticism before he was recognized for his bold, creative, inventive work and his tremendous contributions to mankind.
Simon Hullihen, with his bride, arrived in Wheeling in 1835. He was then 24 years old. Three years earlier he had been graduated as a medical doctor from Baltimore's Washington College and had set up practice at Canton, Ohio.
He was among the first of the doctors to specialize — and his specialty was the treatment by surgery of defects of the mouth and head. Specialization in those days was tantamount to quackery. To compound the situation, dentistry was looked on as a trade practiced by mechanics.
Hullihen changed all this. At a time when neither anesthesia nor asepsis were in use, he performed more than 1,100 operations including cataract, hare-lip, cleft palate, and crossed-eyes, and built new noses, lips and underjaws.
He frequently invented his own instruments, six of which still remain in use. In addition, he was a successful author and lecturer. He was also a humanitarian. Over a third of the operations he performed during the last 10 years of his life were acts of charity.
Dr. Hullihen was convinced that the practice of dentistry should become recognized as a profession in itself. In 1840, he was gratified to see the Baltimore College of Dental Surgery opened as the first independent educational institution devoted exclusively to instruction in dentistry. In 1843, Dr. Hullihen received an honorary DDS degree from the school.
His growing fame as an oral surgeon brought patients to Wheeling from across the nation. To accommodate the influx of people he established a private infirmary which would accommodate 12 patients. This was the only such facility between Pittsburgh and Cincinnati.
Hullihen was not satisfied by his own professional success. He believed Wheeling should have a hospital, but, for a time, was unsuccessful in efforts to convince community leaders of the need. Dr. Hullihen reminded them of the 1832 cholera epidemic which raged through Wheeling and cited the growing number of injuries being suffered in industrial plants.
Fifteen years after he arrived in Wheeling, the right formula for a hospital was found. He combined forces with the Rt. Rev. Richard W. Whelan, Roman Catholic Bishop of the Wheeling Diocese. A Catholic hospital was then established in Wheeling. The first building was on the corner of 14th and Eoff Streets and administered by the Sisters of St. Joseph.
---
Text and pictures provided by Wheeling Hall of Fame. Service provided by the staff of the Ohio County Public Library in partnership with the Wheeling Hall of Fame Committee.
Hall of Fame Index | People of Wheeling Home | Wheeling History Home | OCPL Home