Biography: J. McHenry Jones
---
A Heart of Gold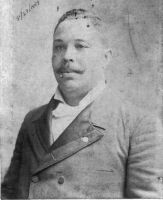 James McHenry Jones (1858-1909) was one of West Virginia's most prominent African-American educators and community leaders during the half century after the Civil War. Born in Gallipolis, Ohio to Joseph Jones and Temperance Reed, James was the sixth of ten children. Influenced by the Baptist preacher Thomas Jefferson Ferguson, the family aspired to middle class status and stressed education. James asked and received permission to attend the previously all-white Pomeroy High School. Following his graduation *in 1882, Jones became principal of Lincoln school in Wheeling. Jones married twice, both times to women he hired to teach at schools he headed.

James made his mark as an educator at Lincoln Common School in Wheeling, founded in 1866 to educate Negro children, and the West Virginia Colored Institute located near Charleston. At Lincoln (1882-1898) Jones doubled the number of teachers and students, broadened the curriculum, and rebuilt the school after a fire in 1892. At the Colored Institute he increased federal and state funding, built classroom, dormitory, and shop buildings, and broadened the curriculum to include teacher and military training programs. Students spent half of their time on academic studies and the other half in the trades building learning various manual skills.
Jones became influential through political contacts and participation in black fraternal Institutions. He supported George Atkinson, a Wheeling attorney, newspaperman, and politician. When Atkinson successfully ran for Governor of West Virginia in 1896, Jones seconded his nomination and founded the Atkinson Republican Club, made up of more than 100 African-American voters. Jones joined the Grand United Order of Odd Fellows, a black fraternal organization, while still a young man. He held many positions within the fraternity and in 1897 went to England as America's delegate to the British Odd Fellows annual meeting. He gave speeches to showcase the achievements of African-Americans.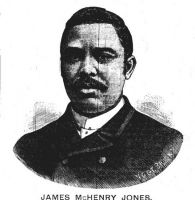 Jones' novel Hearts of Gold was published in 1896, but only eight copies survived until West Virginia University's Press republished it in 2010. Among the problems facing African-Americans discussed in the novel were the rise of black education, press, fraternal organizations, lynching, and convict labor. Like Booker T. Washington, Jones favored an accommodationist strategy in which African-Americans would prove their worth. As he said to the British Odd Fellows in 1897, it would be "through the associations of class and especially middle-class values and morals, African-Americans could decrease the force of racism and acquire acceptance in the social order. (Joe Laker for Legendary Locals of Wheeling.)
▶ 1889: Sketch of J. McHenry Jones.
▶ 1896: Address to the State Republican Convention
▶ 1897: A Royal Welcome Upon Arriving Home From Trip to London
▶ 1898: Good-bye from the City of Wheeling
---
Biographies Index | People of Wheeling Home | African American Wheeling | Wheeling History Home | OCPL Home
-Information on this page compiled by lhoracek, sduffy, and erothenbuehler