OCPL@Home for History Buffs & Researchers
---
Our OCPL@Home offerings are broken up into color-coded sections:
---
*Some companies are offering temporary access to their online services during the COVID-19 crisis.
---
No library card? No worries!
Apply for a library card now!
➤ Learn more
Requires an OCPL library card:
---
---
---
---
---
---
No library card needed:
---
---
---
---
---
---
---
Temporary access:
---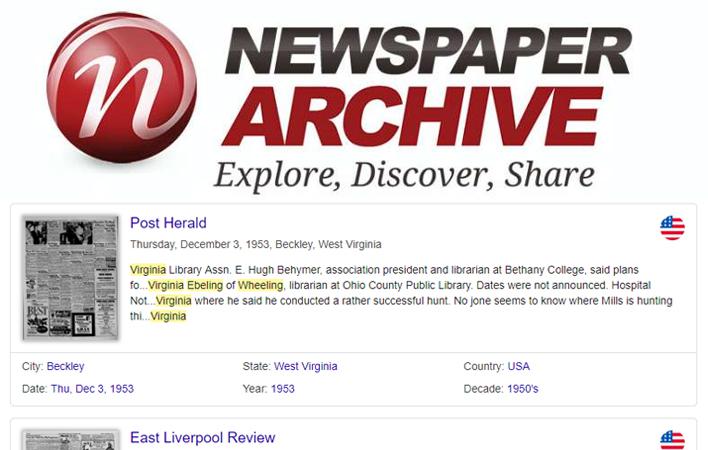 NewspaperARCHIVE.com is the world's largest online newspaper archive that spans more than 400 years of family history, small-town events, world news and more. Many newspapers from towns in West Virginia, Eastern Ohio, and Western Pennsylvania are available. Selected dates are available for the Wheeling Daily Intelligencer (1852-1868); Wheeling Intelligencer (1911-1916); Wheeling Register (1889-1897); Wheeling Sunday Register (1889-1892); and the Wheeling Times And Advertiser (1840-1848).
NOTE: To access NewspaperARCHIVE, you must first log in to your account on our card catalog. You will only be able to access this from a desktop or laptop computer. From our card catalog, click the "Log In" button and enter your library card number and 4-digit PIN (first four letters of your last name all in lower case letters). Once logged in, click on the downward arrow at the top of the page next to your name. From the dropdown list, click on NewspaperArchive.com. This will take you to an account summary page. Look for the NewspaperArchive.com link and click on it. This will take you to https://access.newspaperarchive.com/ where you will be able to start searching newspapers.
---