Celebrate "The Great American Read"
---
Between May 22 and October 18, 2018, PBS is asking you to help narrow a list of 100 books down to the "The Great American Read" and we will be screening movies based on the novels on that list.
UPDATE: Voting is closed and polls are in!
➤ View the result of the "Great American Read"
➤ View the result of the "Great West Virginia Read"
➤ View the result of the "Great Wheeling Read"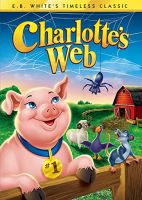 First up is the children's classic Charlotte's Web, Monday, August 20 in the Library Auditorium at 6 pm.
Based on the beloved children's novel by E.B. White, a young girl named Fern rescues a runty piglet, raises it as her own and names him Wilbur. However, after Wilbur grows into a pig, she is compelled to sell him to her Uncle Homer Zuckerman down the street. At Zuckerman's barn, Wilbur meets a host of animals and later learns from them that come winter, he will be slaughtered for food. Fearing for his life, Charlotte, a gentle and wise spider who befriended the lonely Wilbur, vows to save his life.
We will also be hosting a "Great American Read" kick-off party, Thursday, September 6 at 7 pm in the Library Auditorium. Community leaders, local celebrities, and library employees will share a brief review of a favorite book from the 100 list. Light refreshments will be served.
At the end of October, we will also host a "Reveal Party" for the winning "Great American Read" (Time and date TBA).
Full Schedule of Great American Read Movies at the Library:
---
Is your favorite book on the list? Then it's time to vote!
This summer PBS is trying to decide which novel is The Great American Read. They've chosen 100 books—novels only, no nonfiction (sorry)—and now it's our turn to pick our favorites. Visit The Great American Read home page to see how many of the 100 books you've read.
---
America's Best-Loved Books
The list is interactive and you get to vote for your favorite. You get to vote for our favorite novel once a day and you can change it up and vote for a different novel every day, or you can just vote for the same one over and over again. We'll find out which book wins this fall. It's time to vote for your old favorites and read some new winners! And in the meantime, join us to watch some great films based on the 100 books on the list.
Vote for The Great West Virginia Read and The Great Wheeling Read as well. Happy Great American Reading!
---
ABOUT THE GREAT AMERICAN READ
---
THE GREAT AMERICAN READ is an eight-part series that explores and celebrates the power of reading, told through the prism of America's 100 best-loved novels (as chosen in a national survey)*. It investigates how and why writers create their fictional worlds, how we as readers are affected by these stories, and what these 100 different books have to say about our diverse nation and our shared human experience.
The television series features entertaining and informative documentary segments, with compelling testimonials from celebrities, authors, notable Americans and book lovers across the country. It is comprised of a two-hour launch episode in which the list of 100 books is revealed, five one-hour theme episodes that examine concepts common to groups of books on the list, and a finale, in which the results are announced of a nationwide vote to choose America's best-loved book.
The series is the centerpiece of an ambitious multi-platform digital, educational and community outreach campaign, designed to get the country reading and passionately talking about books.
*PBS does not endorse any titles on the top 100 list. For more information on how these titles were selected, please see.
---
TV Schedule
"Launch Special" (Premiered Tuesday, May 22, 2018) Watch Now
"Fall Kick-off" (Premieres Tuesday, September 11, 2018 8/7c) Watch Now
"Who Am I?" (Premieres Tuesday, September 18, 2018 8/7c) Watch Now
"Heroes" (Premieres Tuesday, September 25, 2018 8/7c) Watch Now
"Villains and Monsters" (Premieres Tuesday, October 2, 2018 8/7c) Watch Now
"What We Do For Love" (Premieres Tuesday, October 9, 2018 8/7c) Watch Now
"Other Worlds" (Premieres Tuesday, October 16, 2018 8/7c) Watch Now
"Grand Finale" (Premieres Tuesday, October 23, 2018 8/7c)