Summer Reading 2016: OCPL Kids - On Your Mark, Get Set...Read!
---

OCPL's Children's Department Announces its
Summer Reading Program for 2016:
On Your Mark, Get Set…READ!
---
Are you ready to read this summer? Children can participate in this year's Summer Reading Program by picking up an activity book during all open hours at the Library. No registration is required.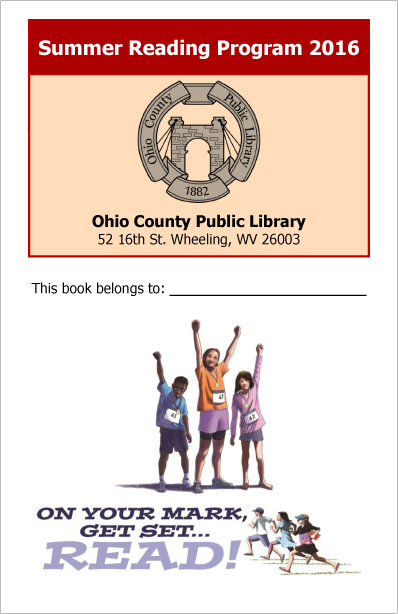 The Summer Reading Activity Booklet (download the pdf Booklet) has fun-filled activities for children to complete each of the seven weeks throughout the program. Activities include reading, attending OCPL's children's programs, outdoor activities such as "Take Your Camera For a Walk," and answering Olympic trivia questions. Each week, children must complete three of the five activities listed for that week. After completing the activities, they can bring their Activity Booklet to the Library to have it checked by the Library staff. After having their Activity Booklet checked by the Library staff, the children can visit the Children's Department's new sticker station and select a sticker to take home. As an additional special treat on weeks three, five and seven the children will also receive an additional prize. Every week children can also enter a weekly photography contest called "Take Your Camera for a Walk." Their photographs should be posted on the Ohio County Public Library's Kid's Page to enter the contest. Weekly winners are announced on the Facebook page and will receive prizes at the Sumer Reading Program Finale pool party. The children's photos will also be used to create the Olympic Rings in the On Your Mark, Get Set…READ! Display in the Children's Department. Every week throughout the Summer Reading Program children can enter one raffle ticket, found in the back of the Activity Booklet, for a chance to win prizes at the finale pool party at Wheeling Park on August 1.
Displayed below are the Summer Reading Activity Booklet, the weekly special programs for children held at the Library, and the summer On Your Mark, Get Set….READ! weekly story times which are also based on a sports activities and Olympics theme.
▶ 2016 Summer Reading Activity Booklet: Download the pdf
Did you know we have an On Your Mark, Get Set…READ! Summer Reading Program for Adults too!
▶ Click here for details!
We hope to see you and your children at the Library this summer!

---
▼ 2016 Summer Reading Programs Schedule:
---
▼ 2016 Summer Story Time Programs Schedule: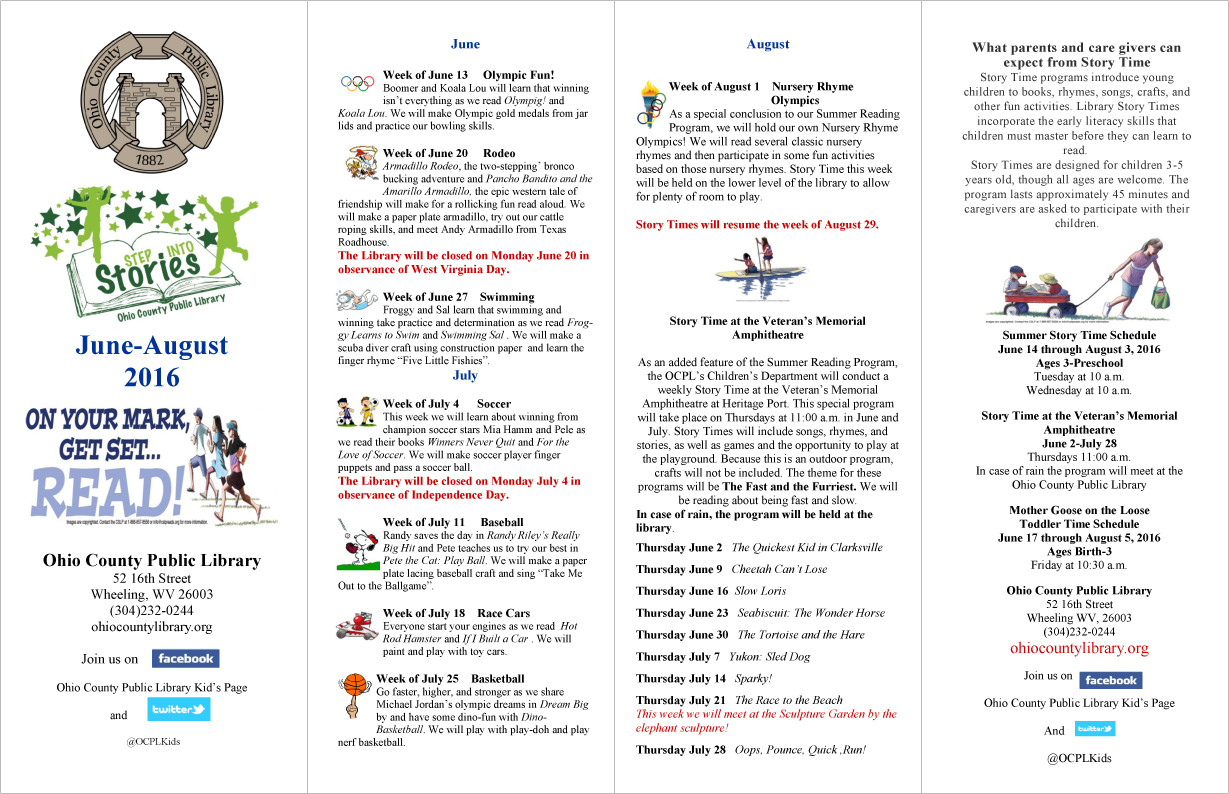 ---
OCPL Kids! Home | Departments Home Page | OCPL Home Page
Library-Sponsored Programs Policy
The purpose of Ohio County Public Library-sponsored programs is to provide education, information, and entertainment for library patrons. The Library reserves the right to exercise sole discretion in selecting and inviting presenters for its programs. In selecting presenters, the Library does not discriminate on account of race, color, age, sex, sexual orientation, physical or mental disability, political affiliation, religion, ancestry or national origin, and the views expressed by presenters of Library-sponsored programs, or by any person in attendance at the programs, do not necessarily reflect the views of the Library, its staff, and/or its representatives.