Summer Reading Program 2016: Adults - On Your Mark, Get Set…Read!
---
Adult Summer Reading Program has Finished!
The 2016 "On Your Mark, Get Set…READ!" Adult Summer Reading Program finished on July 31! Winners are posted below. Thank you, everyone, for yet another successful summer of reading!
▶ Read a full report on our 2016 Adult Summer Reading Program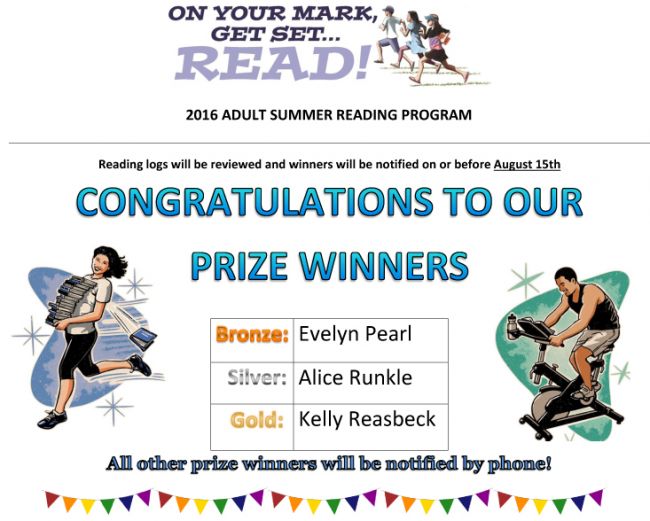 ---

On Your Mark, Get Set…READ!


2016 Adult Summer Reading Program
June 13th - July 31st

---
Remember 2015's Adult Summer Reading Program's "Blind Date with a Book"? The books wrapped in brown paper with descriptions enticing readers to pick just the right book for a blind date were hugely popular with avid readers throughout the summer last year. So by popular request again this summer, OCPL offers another program with mysteriously wrapped books. This year the books will be in bags which are stapled shut so readers must select their picks by reading the attached description.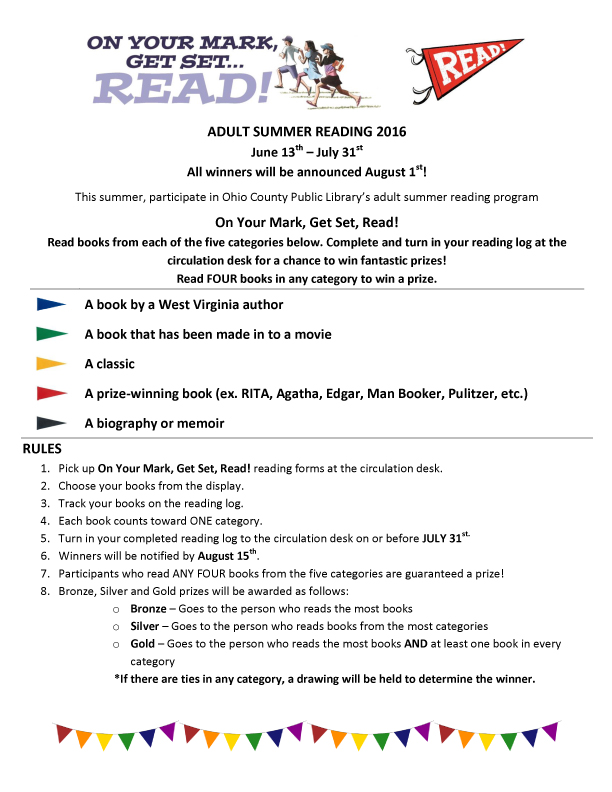 This year's theme is the same as the Children's Summer Reading Program's, On Your Mark, Get Set…READ! and highlights reading categories for all five rings of the Olympics. The five categories are: books by West Virginia authors; books which were made into movies; classic reads; prize-winning books; and biographies/memoirs. Books from all categories are displayed on the Adult Summer Reading table located near the Reference Desk in the Library. Each book is bagged with the appropriate color flag attached with the book's description to help readers select the perfect summer read.
No registration is required.
Participants will keep a Reading Log which may be picked up at OCPL's Circulation Desk or downloaded here: ▶ OCPL 2016 Adult Summer Reading Log (pdf)
Prizes: Readers can win prizes! Like the Olympics, Bronze, Silver and Gold prizes will be awarded to participants based on various criteria outlined in the flyer above. In addition, every reader who reads four books will receive a prize.
Increase your reading fitness and get in shape this summer by participating in OCPL's Adult Summer Reading Program!
We look forward to seeing you enter "training" here at OCPL this summer!

---
Have kids?
We have an On Your Mark, Get Set…READ! Summer Reading Program for Children too!
▶ Click here for details!
---
Departments Home Page | OCPL Home Page
Library-Sponsored Programs Policy
The purpose of Ohio County Public Library-sponsored programs is to provide education, information, and entertainment for library patrons. The Library reserves the right to exercise sole discretion in selecting and inviting presenters for its programs. In selecting presenters, the Library does not discriminate on account of race, color, age, sex, sexual orientation, physical or mental disability, political affiliation, religion, ancestry or national origin, and the views expressed by presenters of Library-sponsored programs, or by any person in attendance at the programs, do not necessarily reflect the views of the Library, its staff, and/or its representatives.