Vote for the "Great West Virginia Read"
---
Voting is closed for the "Great West Virginia Read" and the winner is...
To Kill a Mockingbird
To Kill a Mockingbird was voted by viewers as West Virginia's #1 best-loved novel in The West Virginia Read.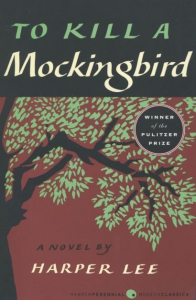 WV Public Broadcasting worked with 24 libraries throughout West Virginia, including the Ohio County Public Library, to select the top novel. Roughly 8,400 people participated in events statewide.
One of the best-loved stories of all time, To Kill a Mockingbird has been translated into more than forty languages, sold more than forty million copies worldwide, served as the basis for an enormously popular motion picture, and voted one of the best novels of the twentieth century by librarians across the country. A gripping, heart-wrenching, and wholly remarkable tale of coming-of-age in a South poisoned by virulent prejudice, it views a world of great beauty and savage inequities through the eyes of a young girl, as her father—a crusading local lawyer—risks everything to defend a black man unjustly accused of a terrible crime.
To Kill a Mockingbird led The Great American Read voting from the first week, and kept the lead for the entire five months of voting, despite strong competition from the rest of our five finalists. It also topped the list of votes in every state except North Carolina (who went for Outlander) and Wyoming (who preferred Lord of The Rings). Such widespread support from readers across the country make To Kill a Mockingbird a worthy winner of The Great American Read.
---
Thank you for your participation!