Charles E. Wemple
American Stone Co.
-- from Callahan, J. M. (1923). Vol. II. In History of West Virginia, old and new (p. 417). Chicago: American Historical Society.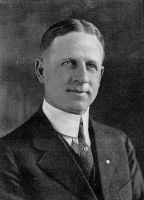 CHARLES EDWIN WEMPLE is secretary, treasurer and general manager of the American Stone Company, whose general offices and business headquarters are at Wheeling. This company has several factories in West Virginia and Ohio, manufacturing the grinding stones used in paper mill industries.
Mr. Wemple was one of the original producers of the first successful pulpstone producers in this country, and for fifteen years was manager of a quarry in Ohio where was produced the only good pulpstone on the Western hemisphere. The supply at that time was more or less limited, making it necessary for the United States and Canada to look to England for part of their supply. When the World war cut off the supply of the English product he immediately set out to find additional deposits of rock suitable for producing these large wood pulp grindstones, and it fell to the lot of West Virginia to become the second largest producer of these stones in the United States, which under rapid development took first place the third year after Mr. Wemple started producing stones in this state. The industry has grown rapidly, and is still expanding in order to keep up with the needs of the paper mills in this country, Canada, Mexico and Japan.
Mr. Wemple comes of a family noted for mechanical and business ability and was born at Lockport, New York, October 23, 1878. His grandfather, Myndert Wemple, was born in Holland April 9, 1810, and as a young man came to America and settled near Amsterdam, New York, where he followed farming until he retired in the Village of Amsterdam. He died there November 4, 1885. In New York he married Miss Catherine McKenney, a native of Scotland, who died in Greenwich, Connecticut, June 30, 1906. McKenney Wemple, father of Charles E. Wemple, was born in Ellenville, Schenectady County, New York, October 30, 1837, was reared there, learned his trade in the locomotive shops of Schenectady, and as a young man removed to Lockport. At the age of thirty-five he engaged in a repairing and general contracting business, and was an expert builder of high pressure municipal waterworks pumps. He continued a successful business career at Lockport until his death, January 26, 1918. He was a democrat, a faithful Presbyterian in religious affiliations, and a member of the Independent Order of Odd Fellows. At Lockport he married Miss Eliza Jakeway, who was born in that city November 7, 1849, and is still living there. Her father, Edwin Jakeway, was born in Gloucester, England, in 1806, and as a young man settled at Lockport, where he became a millwright. He died at Lockport May 16, 1888. His wife was Jane Bradfield, who was born in Southampton, England, in 1810 and died at Lockport September 7, 1896. McKenney Wemple and wife had the following children: Miss Martha, who died at Lockport at the age of thirty; Kate J., department mananger of a department store at Lockport; Minnie J., wife of Austin B. Morrill, a Lockport merchant; Myndert, a millwright with Federal Milling Company at Lockport; Charles Edwin; Arthur S., accountant for the Stratton Fire Clay Company, living at Toronto, Ohio; and McKenney, Jr., a carpenter and contractor at Toronto, Ohio.
Charles Edwin Wemple acquired his early education in the public schools of Lockport, graduating from high school in 1898. For three years following he was employed in the joint offices of the Lockport Pulp Company and the Lockport Felt Company. Practically his entire business experience has been in some phase of the paper manufacturing industry. On leaving Lockport he removed to New Philadelphia, Ohio, and was with the Tippecanoe Pulp and Grindstone Company until the business was dissolved in 1905. Subsequently he became secretary and manager of the Smallwood Stone Company at Empire, Ohio, but in 1915 he removed to Mannington, West Virginia, and bought the stone properties of J. A. Connelly at Littleton. With these properties he organized the American Stone Company, and has since been secretary, treasurer and general manager. Mr. Wemple moved the business headquarters of this company to Wheeling in November, 1920, the offices being in the McLain Building. The company produces a large line of wood pulp grindstones, used in grinding wood pulp for different mills. The factories where the stones are produced are at Littleton, West Virginia, Hammondsville, Ohio, and Sattes, West Virginia.
Mr. Wemple has been welcomed into Wheeling's circle of prominent business men. He is an elder in the Presbyterian Church, a member of the Wheeling Gun Club, Wheeling Rotary Club, and Wheeling Tennis Club, and is affiliated with Mannington Lodge No. 31, F. and A. M., Mannington Chapter, R. A. M., Wheeling Commandery No. 1, K. T., Osiris Temple of the Mystic Shrine at Wheeling, and belongs to West Virginia Consistory No. 1 of the Scottish Rite. He is a past chancellor commander of the Knights of Pythias Lodge at Toronto, Ohio, and while living at Toronto was a member of the city council and a director and vice president of the Bank of Toronto. He is independent in politics. His home is a modern residence at 13, Laurel Avenue in Lenox, Wheeling. In June, 1903, at Lockport, Mr. Wemple married Miss Minnie B. Rignall, daughter of Charles P. and Louie E. (Bowden) Rignall, residents of Lockport, where her father is a shoe merchant. Mrs. Wemple is a graduate of Lockport High School. They have four children: Martha Louise, born in May, 1905; Ella Kate, born in October, 1907; Priscilla, born in August, 1909; and Philip Edwin, born in November, 1921.
---