Harry T. Clouse
Sheriff of Ohio Co., 1923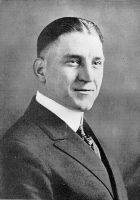 from History of Ohio County. Chicago: American Historical Society, 1923 (v.2, p.388)
"HARRY T. CLOUSE, the present sheriff of Ohio County, at Wheeling, has come to the dignity and responsibilities of this important office through the efficiency he displayed by several years of public work in the court house, by his splendid good citizenship, and as a result of the effective part members of the Clouse family have taken in the life and affairs of Wheeling for half a century.
Sheriff Clouse was born at Wheeling, May 15, 1892. His grandfather, Henry Clouse, was born near Stuttgart, Germany, in 1824, and brought his family to the United States about 1871, locating at Wheeling, where he continued to follow his trade as a brick mason. He died at Wheeling in 1894. His son, Charles Clouse, was born near Stuttgart in 1859, and was twelve years of age when brought to Wheeling, where he completed his education. As a young man he was employed as a puddler in the local steel mills. In 1896 he joined the Wheeling Fire Department, and at the end of a quarter of a century of efficient service he is now captain of Aerial Truck Company No. 1. Captain Clouse is a republican. He married Frances Weaver, who was born in Mason County, West Virginia, in 1862. They are the parents of four children: Stella, wife of John Kunz, a cigar maker at Wheeling; Charles, Jr., a steam fitter at Wheeling; Harry Theodore; and Gertrude, a student in the Wheeling High School.
Harry Theodore Clouse grew up in the City of Wheeling, attended the public schools, including high school, and in 1908 graduated from the Elliott Commercial School. During 1908-09 he attended the historic Linsly Institute, and left that to begin his serious career. For a short time he was in the service of the Baltimore & Ohio Railway Company, and for three years worked in the steel mills of the Wheeling Steel & Iron Corporation. Mr. Clouse also had some newspaper experience, acting as reporter for the Wheeling News and Wheeling Intelligencer for a year. In the fall of 1913 he was appointed deputy Circuit Court clerk of Ohio County, and since that date his duties have been at the court house. In November, 1920, he was elected sheriff, and began his official term of four years January 1, 1921.
Sheriff Clouse has a military record, having enlisted in May, 1917, soon after America entered the war. He attended the Officers Training Camp at Fort Benjamin Harrison, Indiana, was commissioned a first lieutenant in August, 1918, and then transferred to Camp Zachary Taylor at Louisville, and finally was with the Forty-ninth U. S. Infantry at Fort Leavenworth, Kansas. He received his honorable discharge in September, 1919.
Sheriff Clouse is a stockholder in the Fulton Bank & Trust Company. He is a republican, has served as a deacon of the Lutheran Church, and is prominent in Masonic circles, being a member of Nelson Lodge No. 30, A. F. and A. M., Wheeling Chapter No. 1, R. A. M., Wheeling Commandery No. 1, K. T., Osiris Temple of the Mystic Shrine at Wheeling, in which he has served as captain of the Arab Patrol; Wheeling Consistory of the Scottish Rite; and is also a member of the Royal Court No. 13, Royal Order of Jesters, Black Prince Lodge No. 19, Knights of Pythias, Wheeling Lodge of Odd Fellows and Wheeling Lodge No. 28, B. P. O. E., of which he is a director.
In 1915, at Wheeling, Mr. Clouse married Miss Alma R. Sax, daughter of Louis and Louise (Biery) Sax. Her father was a live-stock commission broker and is now deceased. Her mother is now Mrs. William Currence, of Wheeling. Mrs. Clouse finished her education by graduation from Mount De Chantal Academy near Wheeling, where she enjoyed an exception training in music and is a skilled pianist. Sheriff and Mrs. Clouse have one daughter, Alma June, born February 9, 1916. The home of Sheriff Clouse is an attractive residence at 31 Avenue A, Edgedale, Wheeling."
---