Martin Luther Connelley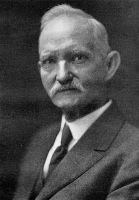 In Liberty District, Ohio County, ten miles northeast of the City of Wheeling is situated the fine homestead farm of Mr. Connelley, who is now one of venerable native sons of this county and who has stood representative of loyal and progressive citizenship during the course of a long, active and successful career. He was born in Richland District, this county, September 29, 1842, a son of Elisha and Lorena (Eaton) Connelley. In the possession of the family is an antique arithmetic, published in 1816, and having entry of births in the Con-nelley family.
Elisha Connelley was born in Maryland, near the eastern coast, November 26, 1812, and he was nine years old when his father, William Connelley, there died. The widow and children later removed to Washington County, Pennsylvania, Elisha having been eighteen years old at the time. Soon afterward he came to what is now West Virginia and settled in Ohio County. He brought his mother and other members of the family to the new home, and the mother passed the closing years of her life with one of her daughters, at Wheeling, where she died at the venerable age of ninety-three years. The son, Eli, became a farmer in Marshall County, and his death occurred at Moundsville, when he was eighty-eight years old, one of his sons having met his death while serving as a soldier in the Civil war. William, another of the children of the widowed mother, remained in Wheeling, was a tailor by trade but eventually engaged in the grocery business at North Wheeling, one of his sons, John W., being still a resident of Wheeling.
About the year 1834 Elisha Connelley married Lorana Edmonds, who was born in Pennsylvania, a daughter of William Edmonds, the date of her birth having been January 26, 1816. Elisha Connelley's death occurred April 4, 1898, when he was in his eighty-sixth year, his wife having preceded him to the life eternal. After his marriage Elisha Connelley and his wife established their home in a modest cabin at Greggsville, and he became a teamster for Mr. Gregg, who was engaged in burning charcoal for the iron furnaces of this district. Mr. Connelley later engaged in farming on shares, and from the returns from this line of enterprise he purchased a small house at Greggsville. With increasing prosperity he erected buildings in that village and also became the owner of four farms. He was an energetic and able business man and became one of the representative exponents of agricultural and live-stock industry in this section of the state. He lived virtually retired during the last twenty years of his life, but continued to give his attention to his live stock and farm interests in a general way. He was originally a whig and later a republican in politics, and was one of the few in Richland District who voted for Abraham Lincoln for president of the United States in 1860. He lived to see Richland District become a republican stronghold. He and his wife were converted under the teachings of Alexander Campbell and became members of the Campbellite or Christian Church at Wheeling. Of the children the eldest was William, born at Wheeling, in 1836. He became a farmer and later a feed dealer. Benjamin, born in 1838, served through the Civil war as a member of the Fifteenth United States Regulars, and he was somewhat more than seventy years of age at the time of his death. Rachel, born in 1840, is the widow of George King and resides at Martins Ferry, Ohio. Martin Luther, of this review, was the next in order of birth. Eliza Jane, born in 1845, is the widow of Gilbert Holmes and resides at Garden City, Kansas. Perry, who was born in 1848, was a mere boy when he enlisted for service as a soldier of the Union in the Civil war, but his parents caused his release. At the age of eighteen years he enlisted in the United States Army and was assigned to service on the plains of the West. After his discharge from the army he engaged in mining in the West, and finally, with a companion, he started for the old home, nothing further having been heard of him by members of the family and the supposition being that he and his companion lost their lives in a blizzard.
Martin L. Connelley was reared and educated in his native county and has been actively identified with farm enterprise from the time of his boyhood. He has owned and resided on his present homestead farm since 1870, the same comprising 110 acres, one of the first cabins in this part of Ohio County having been erected on this farm, and the fine springs in the vicinity having led Mr. Connelley to erect his present house near the same. He has made the best of improvement on his farm and has here specialized in the raising of sheep. He served fourteen years as a member of the school board of his district. In 1893 he lost his left arm, below the elbow, while operating the first husking machine brought across the Ohio River into West Virginia. He was associated with A. R. Jacob in organizing and developing the local Farmers Mutual Insurance Company, to the upbuilding of which he devoted many years, in the face of strenuous opposition on the part of old established companies, and he. has the satisfaction of knowing that this corporation has become one of substantial and important order and been of great benefit to the fanners of the locality. The company began operations with $150,000 insurance in force, and when the first loss was paid there was in force $214,000. The business has been remarkably prospered, every loss has been adjusted without recourse to law, for a period of five years no assessmentswere made, and the corporation now has in force more than$5,000,000 of insurance, its field of operations in Ohio and Marshall counties, West Virginia. Mr. Connelley continued as secretary and treasurer of the company from the time of its incorporation until 1920. He has been for fifty years a zealous member of the United Presbyterian Church at Roneys Point, the church having recently celebrated the semi-centennial of its organization. His wife likewise was an earnest member of this church. Mr. Connelley has been a supporter of the prohibition party forty years - from the time that St. John was its nominee for president. Mrs. Connelley, whose maiden name was Mary E. Giffin, was born and reared in Ohio County and her death occurred in 1884. Of the four children the eldest is Lena Jane,wife of William Holmes, of Garden City, Kansas; Frank E., who has active charge of his father's farm, married Mrs. Elizabeth (Thiers) Blotzer, who has two children byher first marriage - William and Harry; Joseph L. B., who is associated with the Riverside Tube Works, at Wheeling, married Emma Summers, and they have one child, Laura Jean; Laura L., youngest of the children, became the wife of William Connelley. and was a young woman at the time of her death.
---
— from The History of West Virginia, Old and New. Chicago: The American Historical Society, Inc., 1923. Volume II, pg. 539-540.
---