O. W. Burdats
Dentist
---
-- from the Wheeling Intelligencer, June 20, 1957.
Dr. O. W. Burdats, Retired Dentist, Dies
Dr. O. W. Burdats, prominent retired dentist, died Wednesday at 9:40 p.m. at the Peterson Chronic Hospital.
He was born in wheeling September 12, 1870, the son of Oscar S. and Louisa Glessner Burdats. He was educated in the public schools of Wheeling and later attended the College of Dentistry of what is now Temple University in Philadelphia, graduating in 1891. He returned to Wheeling and practiced his profession for 63 years until his retirement in 1954. He was married in 1897 to Marie Stifel, who preceded him in death on Jan. 3, 1954.
Surviving are a daughter, Mrs. Mary Brown, wife of John E. Brown, of Columbus, O., and one grandson, Dr. William B. Crowl, of Wheeling.
Dr. Burdats was very active in Masonic circles, and for more than 50 years was a member of various Masonic bodies. He as well known nationally in shrine activities and was one of the men responsible for founding of the Shriners Crippled Children's Hospital program. He served as potentate of Osiris Temple, Wheeling, and as commander of Wheeling Commandery No. 1. He was past master of Bates Lodge. He was a director of the Wheeling Court of Jesters for over 20 years and served as a royal director of the National Court of Jesters. He was an emeritus member of the Imperial Council of the Shrine, and attended over 40 annual meetings.
He was also active in the Elks Lodge and served as its exalted ruler in 1910. For many years he participated in the Elks minstrel show and acted as its interlocutor. Dr. Burdats was a charter member of the Wheeling Kiwanis Club and served as its president in 1919 and as district governor of Kiwanis in 1921-22.
For many years he was a member of the American Dental Association, the West Virginia Dental Association and at one time served as president of the state organization. For many years he was a member of the Advisory Board of the State Road Commission of West Virginia and for a number of years was a director of Wheeling Dollar Savings & Trust Co.
Dr. Burdats was a member of Vance Memorial Presbyterian Church.
Friends will be received at Kepner's, 1308 Chapline St. Funeral arrangement are incomplete. Friends and relatives are requested not to send flowers.
© Ogden Newspapers; reproduced with permission.
[ newspaper article from the vertical files in the OCPL's Wheeling Room ]
---
BURDATS RESIDENCE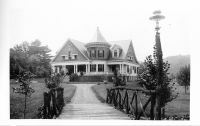 Residence of Dr. O. W. Burdats (on National Road)
[ from "Art Work of Wheeling, West Virginia" booklet, 1904]
---