Obituary: Samuel S. Bloch
Founder of Bloch Brothers Tobacco
---
OBITUARY
-- Wheeling News-Register, Oct. 3, 1937, p.1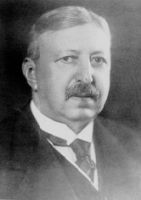 Samuel S. Bloch Dies of Heart Attack
SUCCUMBS AT HOME SATURDAY
CITY LOSES LEADING CITIZEN, PHILANTHROPIST, TOBACCO MANUFACTURER
Samuel S. Bloch, Wheeling philanthropist and nationally famous tobacco manufacturer, died suddenly Saturday evening at his home, "Elmhurst", in Pleasant Valley. He was 87.
The president and co-founder of Bloch Brothers Tobacco company died of a heart attack at 5:45 o'clock, as he sat down to his dinner. His physician, Dr. Robert Reed, Jr., was with him at the time. None of his immediate family was present.
Although he had been in failing health for the past year, Mr. Block continued to be active in business and was at his office as late as last Tuesday.
Mr. Bloch was one of Wheeling's first citizens. A life resident of the city, he was outstanding in business, civic and social affairs, and was generous in his philanthropic works.
Studied Law
He was born in Wheeling February 6, 1850. Educated in the public schools here, he studied law as a young man and then studied shorthand reporting.
After serving as a court reporter for a short time, he entered the retail notion business. Later, the business branched into the wholesale notion and toy business and while still a young man, he and his brother Aaron Bloch, went into the wholesale grocery business.
This business was located at 1501-03 Main street opposite the Wheeling News-Register building.
While in the wholesale grocery business, the Bloch brothers also engaged in the manufacture of cigars and stogies.
Invented "Scrap"
In 1879, the conceived the idea of manufacturing chewing tobacco from cuttings of tobacco resulting from the manufacture of cigars and stogies, putting their product in pouch-like packages.
Thus the Bloch Brothers became the fathers of the so-called scrap chewing tobacco business. They were the first to manufacture chewing tobacco, flavoring it with licorice and other ingredients. Prior to that time, the only chewing tobacco consisted of the unflavored product.
Following the 1884 flood, the brothers discontinued their wholesale grocery business and devoted all of their energy to the manufacture of the now world-famous Mail Pouch tobacco.
At that time they purchased property at the corner of Fortieth and Water streets.
Rapid Expansion
Nothwithstanding keen competition, the Bloch brothers continued to expand their business and today it is not only one of Wheeling's largest industries, extending from Thirty-nineth to Forty-first street and employing 1,000 persons, but it is the largest tobacco factory in the world engaged in the manufacture of only one brand.
On December 4, 1890, the Bloch Brothers Tobacco company was organized and the business which had been operated as a partnership was taken over by the new corporation. It was capitalized at $2,000,000 at that time and has grown until it is now capitalized at $10,000,000.
At the outset, Aaron Bloch was president of the company and Samuel S. Bloch first vice-president. When his brother died in 1904, Mr. Bloch became president a position he held actively until his death.
Under Mr. Bloch's leadership, the plant operated through the more than 50 years without once being shut down except for occasional repairs and at time of floods.
Philanthropy Widespread
The philanthropy of Mr. Bloch is wide-spread. He gave graciously and generously to every charitable project. Innumerable time his contributions to campaigns were anonymous.
Always interested in Ohio Valley General hospital, in which he was a director, Mr. Bloch equipped the pediatric department. He children erected the Ohio Valley General hospital nurses home to honor their father and mother. It has been designated the S. S. Bloch Nurses' home.
Mr. Bloch started his philanthropies years ago -- in the horse and buggy days when he purchased watering troughs to be placed throughout the city because of his love for horses.
Gave Playground Site
In 1936, he donated the city a tract of land on Wheeling Island just north of the Public school stadium, to be used for a children's public playground.
These and many other charitable acts came from Mr. Bloch -- inspired chiefly by the tremendous interest he has always shown in Wheeling and Wheeling's welfare.
Mr. Bloch was affiliated with the Wheeling Masonry and was a member of the Fort Henry club and Wheeling Country club.
For several years Mr. Bloch maintained a residence in New York City as well as in Wheeling. Prior to the death of his wife, the former Bertha Prager of Parkersburg whom he married in 1879, Mr. Bloch traveled extensively in Europe.
Mrs. Bloch died five years ago and since that time Mr. Bloch had occupied his beautiful, garden-surrounded Pleasant Valley home, "Elmhurst," spending part of the year in Palm Beach, Florida. Mr. Bloch was largely responsible for the start of Wheeling's Pike residential section, being one of the first to move there. He built his Pleasant Valley home about 1892.
Survivors
Mr. Bloch is survived by two sons, Jesse R. Bloch and Harold S. Bloch, of Wheeling; two daughters, Mrs. Steven Hirsch, of New York City and Mrs. Edouard Ziegler, of Paris, France; seven grandchildren, Thomas M. Bloch and Mrs. Betty Bloch Harris, both of Wheeling, Barbara Hirsch and Dorothy Hirsch, of New York City. Harold Henry Bloch, of New York City, Mrs. Henri Wolltner and Edouard Ziegler, Jr., of Paris, France. Four great-grandchildren also survive. They are Stewart Fulton Bloch, Jessie Quarrier Bloch, Betty Burns Harris and Jessie Moffat Harris, all of Wheeling.
The body was removed to the Kepner funeral home. Funeral arrangements are incomplete.
© Ogden Newspapers; reproduced with permission.
---
Biographies Index | Wheeling History Home | OCPL Home
-Information on this page compiled by lhoracek