W.C. Brown Photo 73
The Brown Collection of Photographs
Photograph 73 of 94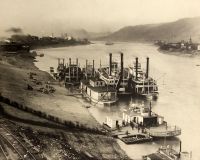 1890
A busy day at the Wheeling Wharf. Scenes like this were daily occurrencenes in the days when the river was the fastest means of transportation between distant cities.
[Click photo to view an enlarged image]
Previous Photograph | Next Photograph
---
Brown Collection Main | 1800-1842 | 1849-1884 | 1885-1887 | 1888-1892 | 1893-1911 |
---
Wheeling History Home | OCPL Home | Ohio River Transportation
If you would like a high resolution copy of a photo from this collection, please make a request through the OCPL contact form.