---
Use the Ohio County Public Library from the comfort of your couch!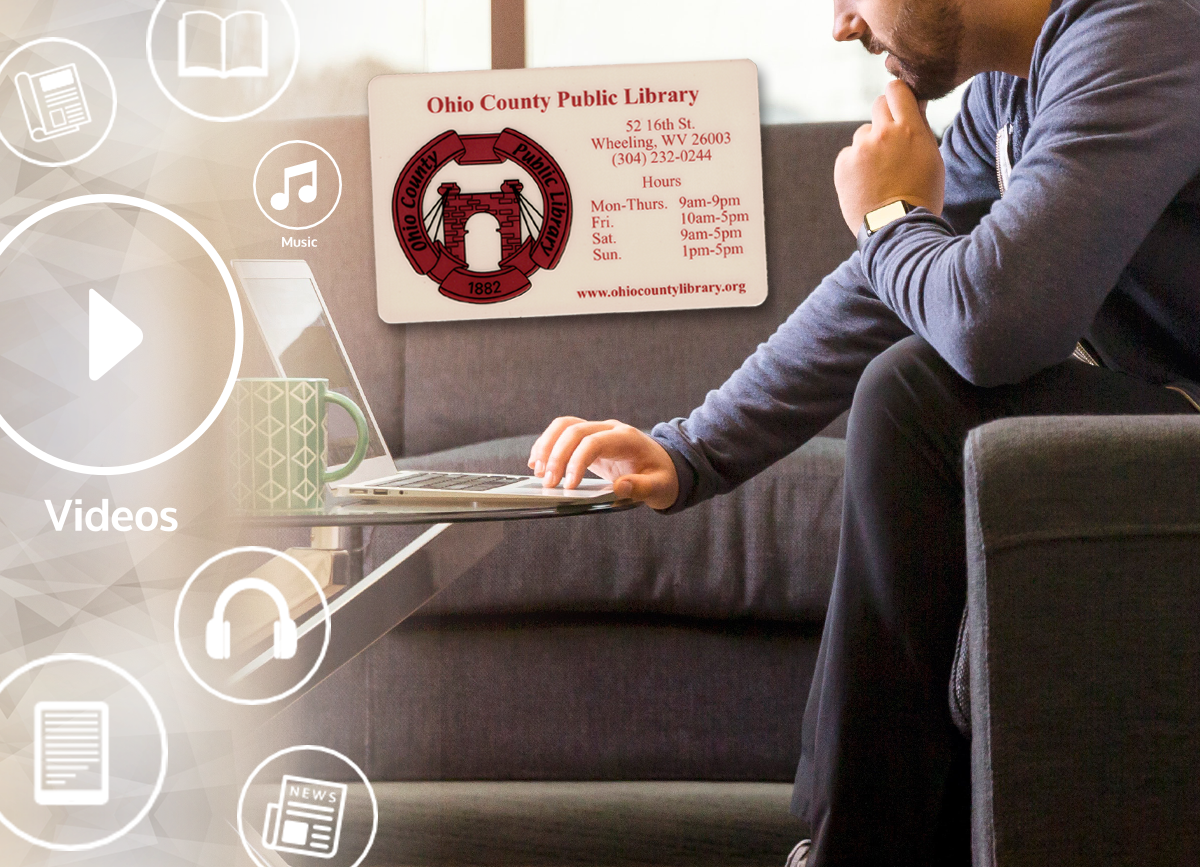 There are plenty of ways to enjoy your library card while at home or on the go.
---
No library card? No problem!
During the COVID-19 pandemic, you can apply for a temporary internet-only library card.
➤ Learn more
---
According to the U.S. Census Bureau, West Virginia currently has the second-worst census response rate in the United States with only 1 in 3 WV households responding so far!
Have you completed your census questionnaire yet?
We sure hope so! Your response matters. Your response shapes funding decisions for West Virginia health care, emergency services, schools, roads, libraries (yes, libraries!) and more. The 2020 census results help determine how federal funding flows into West Virginia and our individual communities each year for the next ten years.
If you haven't completed your census questionnaire yet, please take a few minutes to do so. It only takes about 5 minutes for an individual and around 10 minutes for a family. It's important, easy, and confidential!
---
OCPL is a proud partner of the U.S. Census Bureau for the 2020 Census.
➤ Learn more
Why the 2020 Census Matters to Libraries:
---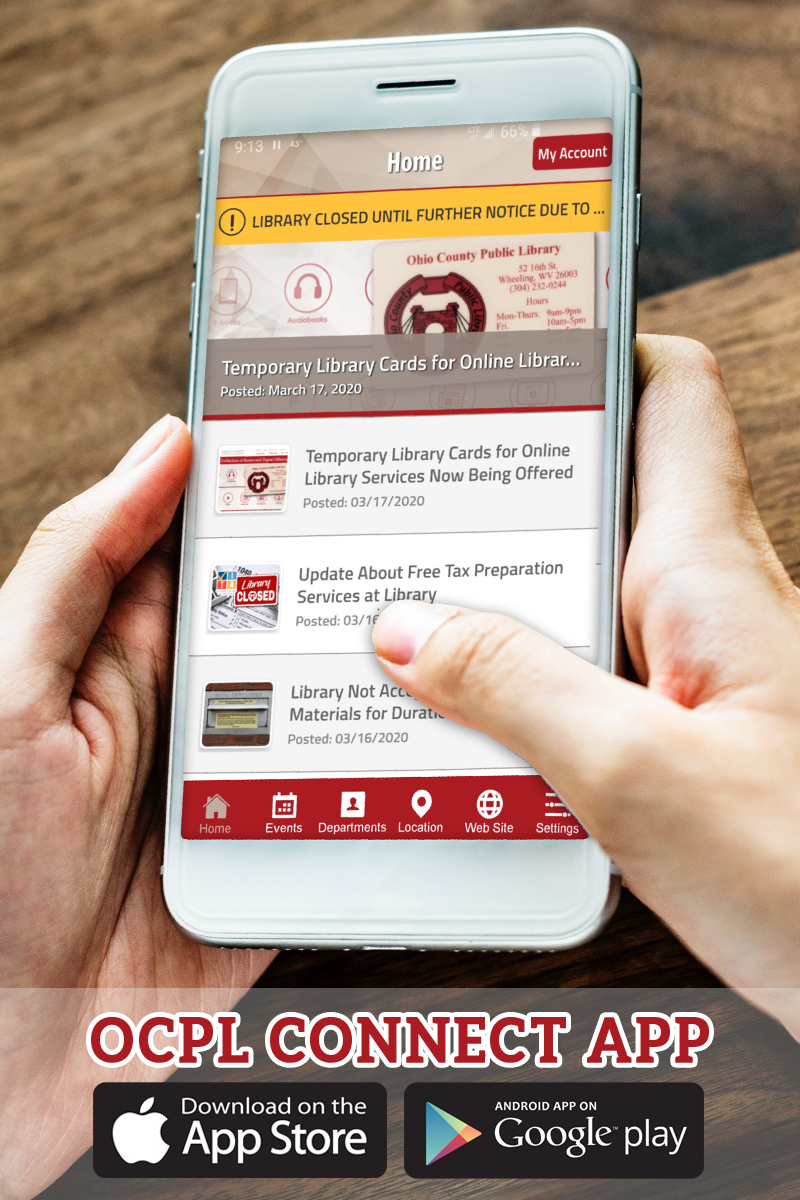 Want to keep up-to-date on our latest news and alerts? Download our free smartphone app to stay connected.

With the OCPL Connect app, you can customize your settings to chose which news and events populate your feed. Receive real-time alerts, catch up on news, and view upcoming events for the things care most about at the Library. OCPL Connect makes it easy to add Library event dates you don't want to miss in your device calendar or share news and events to your social media accounts or via texts or email.
The OCPL Connect app is available from the Apple App Store and from Google Play. Download it today and keep connected!
---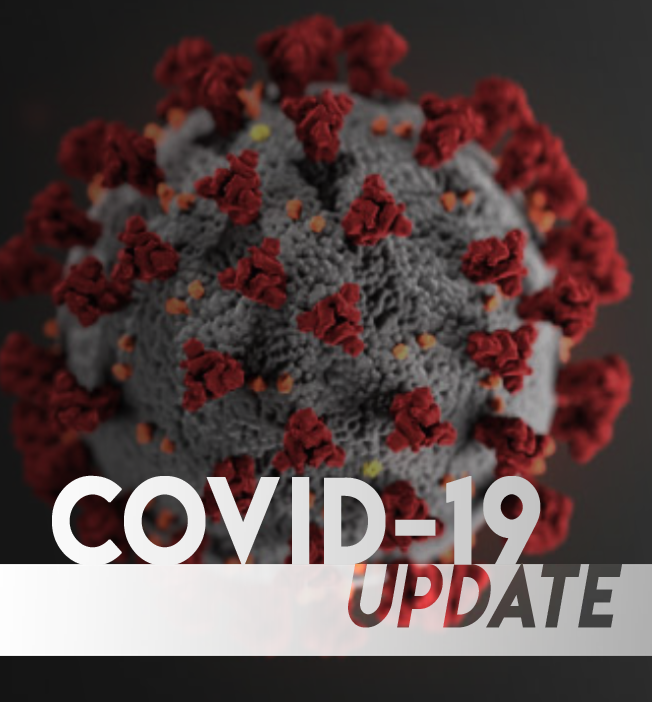 As the COVID-19 pandemic continually evolves, the staff at OCPL is keeping an eye currently local developments. We've compiled a list of resources for the community to stay up-to-date on the latest information and find assistance from local and national agencies.
Keep up to date with Library news and announcements concerning COVID-19 and our indefinite closure:
We encourage you to frequently check for updates on this ever-changing public health issue via our the news section on our website, our smartphone app (OCPL Connect – available on iPhones and Android devices), and our Facebook page.
---
Q: What's my PIN?
A: Your PIN is the first four letters of your last name, all in lowercase letters. If your last name is shorter than four letters, your PIN will be your last name, all in lowercase letters.
---
Q: I tried entering the first four letters of my last name and it is not working. Why isn't it working?
A: The PIN is case-sensitive. If you've entered your PIN in all lowercase letters and it is still not working, your PIN may need to be reset.
➤ Send a request to have your PIN reset through our "Help, I'm Having Login Issues!" form
Username/Password Questions:
Q: Is a username and password the same as my library card number and PIN?
A: No, your username and password are independent from your library card number and PIN. Your username is typically the email address you provide to an online service, though some services will ask you to create a unique username along with a password.
---
Q: Why do I need a username and password? How do I get a username and password?
A: Some of our online resources require you to create an account before you can access their materials. Typically there will be a "Get Started" or "Register" button you can click and then the service will allow you to register by providing your email address and creating a password for that account. After you register, you will then be able to log in with the email and password you provided. Once you log in for the first time, you may then be asked to then find our library in their system (search for "Ohio County Public Library" or by zip code - 26003) and provide your library card number and PIN.
---
Q: It's been a while since I last logged into a service and I can't remember my username. What's my username?
A: Your username is generally the email address you used to sign up for a given online service. If you can't remember which email address you signed up with, there should be an option under "Forgot your password" to retrieve your username.
---
Q: I can't remember my password. What do I do?
A: Each service should provide a "Forgot your password?" link. Generally, when you click on this link, you will be asked to provide your email address. The service will send you an email with a link to a page where you may reset your password. Once you complete the password reset, you should be able to log into the service with your email address and the new password.
---
Have other questions?
Just because you're at home doesn't mean we can't answer them. From the whos to the hows to the whats, wheres, whens, and whys, you have you covered.
➤ Ask away on our Ask A Librarian form
---
A Message from Your Public Library