John W. Beltz
Manufacturer of building materials and contractor
-- SOURCE: Callahan, J. M. (1923). Vol. II. In History of West Virginia, old and new (p. 283). Chicago: American Historical Society.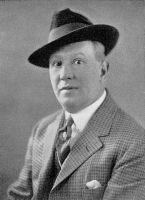 JOHN W. BELTZ is continuing in the City of Wheeling the substantial business founded by his father, and in addition to operating a well equipped planing mill and dealing in building materials he has developed also a prosperous contracting business in connection with building construction. About the year 1870 the firm of Beltz & Flading established this enterprise, the original headquarters having been the old Fisher Foundry Building on Market Street, whence removal was later made to the corner of Nineteenth and Eoff streets, where the business has since been continued, the present plant having been utilized since 1888, in which year the title of the firm was change to Beltz, Flading & Company. The present building was erected about that time, and affords about sixty thousand square feet of floor space, a planing mill having been operated from the initiation of the business. Mr. Flading retired from the firm in 1893, and the title of the concern was then changed to J. W. Beltz & Sons Company. The honored father, John W. Beltz, Sr., died in 1907, after having been actively identified with the business thirty-seven years and after having gained secure status as one of the substantial and representative men of his home city. When the new firm was formed his sons, John W., Jr., and Henry E., became his associates in the business.
John W. Beltz, Sr., was born in Wheeling, a son of Peter Beltz, who was a mechanic and who also became identified with the farm industry. John W. Beltz, Sr., served about a four years' apprenticeship to the trade of cabinet-maker, and finally he became a successful contractor and builder in his native city, many of the substantial buildings erected by him in early days being still in use and in excellent preservation. He represented Sixth Ward as a member of the City Council several terms, was liberal and progressive as a citizen, was a democrat in politics, and he and his wife were devout communicants of St Alphonsus Catholic Church. The maiden name of Mrs. Beltz was Virginia Grammer, and both she and her husband passed their entire lives at Wheeling, she having survived him by ten years. Of the five children, John W., Jr., immediate subject of this sketch, is the eldest; Henry is employed in connection with the business founded by his father; Edward died at the age of forty years; Mary died in early youth; and Miss Anna resides in Wheeling.
John W. Beltz, Jr., was born, reared and educated in Wheeling and here gained early experience in connection with his father's business, so that he was well fortified when, upon the death of his father, he assumed control of that industry, which has been signally prospered under his management. The enterprise is continued under the title of J. W. Beltz, and employment is given to about fifty persons. Mr. Beltz is a stockholder in a number of banking institutions, and while he has had no desire for political activity he is significantly progressive as a citizen and takes loyal interest in all that concerns the welfare and advancement of his native city. He and his wife are communicants of St. Alphonsus Catholic Church, he is affiliated with the Knights of Columbus, and is a member of the Carroll Club. His attractive home is in the Third Ward.
Mr. Be[l]tz wedded Miss Mary Schaub, daughter of the late Louis Schaub, who founded the Central Glass Works at Wheeling and who continued as general manager of the same for thirty-five years, when he retired, he having been sixty-five years of age at the time of his death. Mr. and Mrs. Beltz have no children.
---