Book Clubs
The Ohio County Public Library offers to Book Club opportunities per month. Participants in each group are lent a book at the end of a discussion and meet to discuss the book the following month. Discussions are lead by Library employees
---
First Monday Book Discussion Group
This group generally meets the first Monday of each month at noon in the library (Note: this is subject to change). First Monday Book Discussion is lead by Laura Carroll.
October's 2021's Read: Mrs. Sinclair's Suitcase by Louise Walters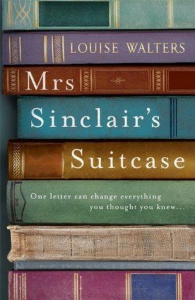 Forgive me, Dorothea, for I cannot forgive you. What you do, to this child, to this child's mother, it is wrong...
Roberta likes to collect the letters and postcards she finds in second-hand books. When her father gives her some of her grandmother's belongings, she finds a baffling letter from the grandfather she never knew - dated after he supposedly died in the war.
Dorothy is unhappily married to Albert, who is away at war. When an aeroplane crashes in the field behind her house she meets Squadron Leader Jan Pietrykowski, and as their bond deepens she dares to hope she might find happiness. But fate has other plans for them both, and soon she is hiding a secret so momentous that its shockwaves will touch her granddaughter many years later...
➤ Check out this book from the Library
➤ View the ebook and audiobook available with your OCPL library card through WVDeli


---
Third Thursday Book Discussion Group
This group generally meets the third Thursday of each month at noon in the library (Note: this is subject to change). Third Thursday Book Discussion is lead by Lindsay Sparr.
A Spanish war orphan born in a burning church and raised by a blind guitar teacher, Frankie Presto was gifted with extraordinary musical abilities that shape not only his life but the lives of those around him. At nine years old, Frankie meets the love of his life, Aurora; that same day, civil war tears apart his home and he is sent to America, smuggled in the bottom of a boat with only guitar and six strings imbued with the power to change lives.
Relying on music to survive, Frankie's talent weaves him through the musical landscape of the twentieth century, from Detroit's jazz scene and the Grand Ole Opry, to Elvis mania and Woodstock—all the while searching for Aurora.
As his fame grows, Frankie finds love, friendship, and celebrity. Even so, his gift becomes his burden, driving a wedge between him and his beloved Aurora—now his wife. Overwhelmed by life, loss, and the power of his strings, Frankie disappears for years, only to reemerge in a spectacular and mysterious farewell.
With its Forrest Gump–like journey through the music world, The Magic Strings of Frankie Presto is a classic in the making. "Everyone joins a band in this life," Albom observes, "only some of them play music."
➤ Check out this book from the Library
➤ View all books by Mitch Albom available from the Library
➤ View all ebooks by Mitch Albom available with your OCPL library card through WVDeli
➤ View all audiobooks and ebooks by Mitch Albom available with your OCPL library card through Hoopla
---