Wheeling Reads, One Book, One Community - 2023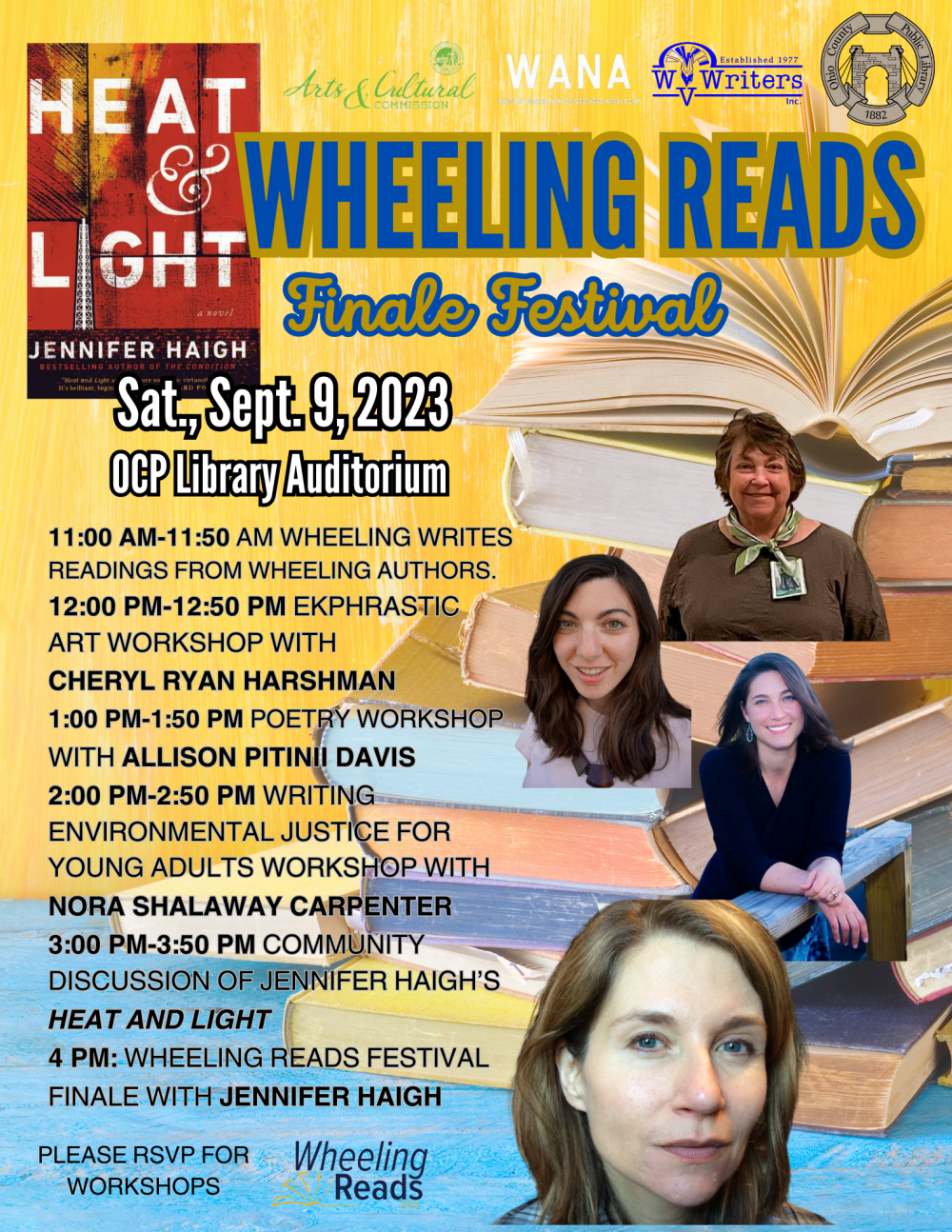 "Wheeling Reads: One Book, One Community" is designed to bring our city closer together through the shared experience of reading and discussing the same book.
"Wheeling Reads: One Book, One Community" is presented by the Writers Association of Northern Appalachia, and West Virginia Writers in partnership with the Ohio County Public Library. Additional funding has been provided by the Wheeling Arts & Cultural Commission.
How to read Heat & Light:
➤Borrow a physical copy from the library
➤Read the e-book version through Hoopla
➤Listen to the audiobook version through Hoopla
All free through your library card! Learn how to set up your free Hoopla account here.
---
SATURDAY Sept. 9: Wheeling Reads Festival
11:00 am-11:50 am Wheeling Writes - Readings from Wheeling authors.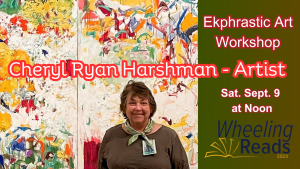 Using the novel Heat and Light this workshop will explore ways in which different art forms feed from each other to lend deeper meanings. From the Greek, Ekphrasis means description. An ekphrastic poem is a vivid description of a scene or a work of art. Through the imaginative act of narrating and reflecting on the scene in a painting or sculpture, a writer might expand its meaning. However, in this workshop we will turn the Ekphrasis around to create visual creative responses to various words, phrases, and ideas from this book. We will use art made by our hands in the workshop to reflect and amplify the meanings we each discover while reading this book.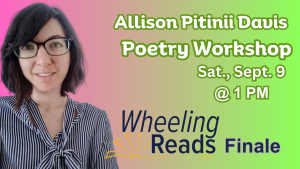 Join Allison Pitinii Davis for a poetry workshop centered on issues of regionalism and the environment. We'll read poems that examine Appalachia, the Rust Belt, industry, and nature. Then, we'll use prompts to compose our own poems (or prose poems) and share them as a group. Writers of all levels and genres welcome! Please bring a device or paper for writing.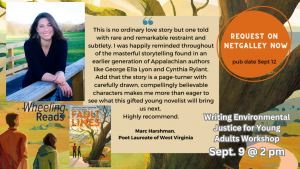 Join author Nora Shalaway Carpenter for a Writing Environmental Justice for Young Adults workshop. In this engaging, interactive session, you'll explore 1) what exactly is Young Adult fiction?; 2) internal vs external tensions as stakes; and 3) how to determine if you're writing a short story, novella, or novel. Nora will also provide exercises and prompts to help generate new story ideas and revise existing stories. Suitable for all writing experience levels. Please come with paper, pencil, and an open mind.
3:00 pm-3:50 pm Community Book discussion of Heat and Light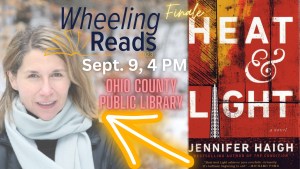 Jennifer's talk will serve is the finale for Wheeling reads, 2023, One Book, One Community. Her book Heat and Light, the Wheeling Reads 2023 selection, was named a Best Book of 2016 by the New York Times, The Washington Post, the Wall Street Journal and NPR.
Acclaimed New York Times bestselling author Jennifer Haigh returns to the Pennsylvania town at the center of her iconic novel Baker Towers in this ambitious, achingly human story of modern America and the conflicting forces at its heart—a bold, moving drama of hope and desperation, greed and power, big business and small-town families.
Forty years ago, Bakerton coal fueled the country. Then the mines closed, and the town wore away like a bar of soap. Now Bakerton has been granted a surprise third act: it sits squarely atop the Marcellus Shale, a massive deposit of natural gas.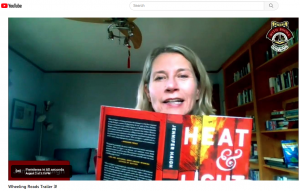 To drill or not to drill? Prison guard Rich Devlin leases his mineral rights to finance his dream of farming. He doesn't count on the truck traffic and nonstop noise, his brother's skepticism or the paranoia of his wife, Shelby, who insists the water smells strange and is poisoning their frail daughter. Meanwhile his neighbors, organic dairy farmers Mack and Rena, hold out against the drilling—until a passionate environmental activist disrupts their lives.
Told through a cast of characters whose lives are increasingly bound by the opposing interests that underpin the national debate, Heat and Light depicts a community blessed and cursed by its natural resources. Soaring and ambitious, it zooms from drill rig to shareholders' meeting to the Three Mile Island nuclear reactor to the ruined landscape of the "strippins," haunting reminders of Pennsylvania's past energy booms. This is a dispatch from a forgotten America—a work of searing moral clarity from one of the finest writers of her generation, a courageous and necessary book.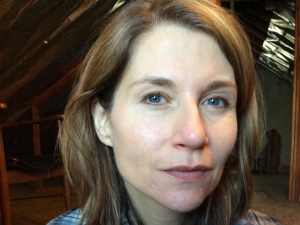 JENNIFER HAIGH is the author of the short-story collection News from Heaven and six bestselling and critically acclaimed novels, including Mrs. Kimble, Faith and Heat and Light, which was named a Best Book of 2016 by the New York Times, The Washington Post, the Wall Street Journal and NPR. Her books have won the PEN/Hemingway Award, the Massachusetts Book Award and the PEN New England Award in Fiction, and have been translated widely. She lives in New England.
---
WATCH: West Virginia Poet Laureate Marc Harshman discusses Wheeling Reads 2023!
---
Related Programs
---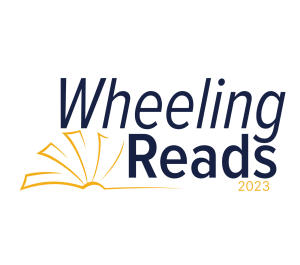 We won't know what to do about climate change if we don't understand what's going on. So, this presentation will summarize: 1) how Earth controls its temperature; 2) why Earth's climate can be temperamental; 3) how we know Mother Earth is running a fever; 4) why human actions are making her ill; and 5) the path towards recovery and the obstacles in our way. In addition to summarizing fundamental information about climate change, I will introduce some trusted voices and reliable sources of information on this topic.
Instructor: Dr. William Peterjohn, Professor, Department of Biology, WVU.
---
Forests are one of the best ecosystems at taking carbon dioxide out of the atmosphere and locking it away for long periods of time. Without this vital ecosystem service, climate change would progress at a much faster pace. However, forest productivity and health may be threatened or enhanced by changes in future climate. In this class, we will discuss how forests store C and how their ability to continue doing so is altered by elevated carbon dioxide in the atmosphere, warming, and drought.
Instructor: Joanna Ridgeway, Ph.D. Candidate, Department of Biology, WVU.
---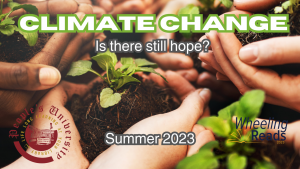 There is a growing movement to manage natural ecosystems to enhance their ability to take carbon dioxide out of the atmosphere. Proposed efforts include improved forest management, using agriculture crops for bioenergy, and wetland restoration. West Virginia has the opportunity to be a leader in natural climate solutions, particularly given that it is over 75% forested. In this class, we will examine existing efforts and technologies that can be employed to slow climate change and the potential for West Virginia to take a leading role in this effort.
Instructor: Dr. Eddie Brzostek, Associate Professor, Department of Biology, WVU.
---
Extractive industries have a long history in West Virginia that has shaped the economy, culture of our state while leaving scars on the landscape. Despite the serious environmental issues, we face in West Virginia, there is good reason to be optimistic. This presentation will describe how stewardship of the environment and our natural resources has improved over the past few decades and reasons to be optimistic about the future.
Instructor: Dr. Ember Morrissey, Associate Professor of Environmental Microbiology at WVU.
---
SATURDAY SEPT. 2 10 am to 4 pm- Reuther Pollack Labor History Symposium 7- Reconciling Labor & Environmental Justice: Featuring Erik Loomis; Josiah Rector, Hal Gorby, and J. Mijin Cha; plus a tour of the Reuther and Pollack Monuments at Heritage Port led by Dr. David Javersak during the lunch break. Location: First State Capitol Building. Sponsored by the WALS Foundation
---
---
Our guest will be 11-year-old Zane Murray of Wheeling, who met with and interviewed attorney Rob Bilott at his law office in Covington, Kentucky, in December 2022 for a school project on PFAS (per- and polyfluoroalkyl substances). Murray was haunted by the dangers of these man-made chemicals, which are linked to cancer and other diseases, after he watched the film "Dark Waters" depicting Bilott's work to hold industry accountable for PFAS pollution. Murray went on to win the U.S. History first-place award for a project he presented at Steenrod Elementary School at an Ohio County Schools social studies fair and second place in the state, but he did not stop there. Zane wrote more than 140 letters urging action on PFAS to state and federal lawmakers. Zane will be joined by Mr. Bilott, who will Zoom in to appear at our program and speak with Zane about their work and about hope for the future. Don't miss Zane's inspirational story.
---
Friday, Sept. 8, 2023 at 7: Wheeling Reads Literary Pub Crawl and Hip Hop Poetry Slam. Towngate Theatre, Later Alligator, Brew Keepers, The Market Vines. Authors Featured: Rebecca Harding Davis, James McHenry Jones, James Wright, David Grubb, with storytellers Vince Marshall and Ron Scott, Jr.