Biography: Samuel McColloch
---
Bio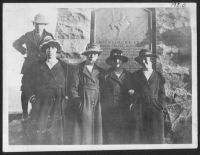 Samuel McColloch (1752-1782) was the commander of Van Meter's Fort, a member of the Virginia Legislature, and a major in the local militia. On the morning of September 1st 1777, the Indians attacked Fort Henry. Sam and two others rode to relieve the fort. Sam spurred his mount to the top of Wheeling Hill with his would-be captors at his heals. There he was trapped by another raiding party coming from the other direction. Preferring a quick death or freedom to captivity or torture, Sam took his only avenue of escape and plunged his horse down a nearly vertical hillside 300 feet to the creek below. Miraculously, the horse and rider made it to the bottom unharmed. A monument at the crest of Wheeling Hill marks "McColloch's Leap." Not to be denied, Indians finally settled accounts with McColloch about six weeks before the second major battle of Fort Henry in 1782. (text by Joe Roxby from Legendary Locals of Wheeling)
---
Fort Henry soldier
The following is a three part newspaper biography of Samuel McColloch printed in the Wheeling Intelligencer, April, 1977 ( © Ogden Newspapers; reprinted with permission) and an account of Major McColloch's Leap from Pioneer Life in the West, The Keystone Publishing Co., 1890.
Quick Links:
---
PART ONE: Biography of Samuel McColloch
Information Very Sparse
- By RICHARD S. KLEIN and ALAN H. COOPER
(Wheeling Intelligencer, April 2, 1977 © Ogden Newspapers; reprinted with permission)
Major Samuel McColloch is a famous name in Northern Panhandle history. However, when called upon to recollect incidents of his life, one is hard pressed to remember anything other than his "leap."
What do we actually know about this man, who seems so important but whose life is quite obscure? The following is a compolation of information from many sources, and will be given in chronological order.
Samuel was born in 1750 or 1752 in Gloucester Township, New Jersey, the son of John and Sarah Inskeep McColloch. Soon thereafter, he and his parents moved to Hardy County on the Potomac River, and then to Ohio County in 1770. John McColloch was highly influential in Ohio County history. He, by 1776, was a colonel in the Continental Army, for which he was commissioned to raise six battalions on November 9. Also, he arranged the meeting of local landowners at Hezekiah Dewitt's house on December 8, to vote for a place to hold court. Likewise, he administered the oaths of office for their various positions to David Rodgers, David Shepherd and James McMechen. Our references are vague on these points, but they do point out the authority of the man. He died in 1778 while serving as sheriff of Ohio County.
As will be seen with Samuel, there is a distinct lack of publicity about John. Many items are given which leave much to the interpretation of the researcher. One possibility for this is the very fame which we try to discover. It may be that John and then Samuel were so well known, and that their actions were also, that little of these was recorded at the time, since knowledge about them was already public.
The time before 1777 is totally void of information about Samuel. This is surprising in the light of the outbreak of Dunmore's War on April 26, 1774. This was the result of the desire of Lord Dunmore, the royal governor of Virginia, for money and land. Major John Connelly, Dunmore's aide, was responsible for the hostilities which began at the mouth of the Great Kanawha River. It set the settlers against the Indians with such ferocity that the public demanded and received permission to build and garrison several small forts, such as Van Metre's Fort, for protection.
The war was declared at Wheeling, by George Roger Clark, Ebenezer Zane, and others. At the same time, the need for a fort here was recognized, and, on June 28, Fort Fincastle-Henry was completed. This fort was the staging area for all expeditions during the conflict.
1777 was an eventful year for the Panhandle, and for Major McColloch. With the hostilities with the Indians and the first indications of his business expertise, this year marks the beginnings of his famous, if short, career. McColloch became a major in the Ohio County militia on January 6, and began his command of Van Metre's Fort in West Liberty. A somewhat later document attests to his presence there.
"Sir, please to let the bearer ensign Wm. Leet have twelve pounds of lead for the use of the militia stationed at this place and obliged, sir, your humble servant Samuel McColloch given under my hand at Van Metre's Fort this 4th day of August, 1778 to Zephariah Blackford at Fort Henry."
Exactly how McColloch earned his rank is unknown. We have no records of his qualifications. Possibly, the money he had already made, and the influence of his father were helpful. Although appointed at this time, the oaths of office or rank were not given to Samuel, David Shepherd, Joseph Ogle, John Biggs and others until June 2.
On January 28, Samuel attended a council of war at Catfish Camp (now Washington, Pa.) with Col David Shepherd and others, to discuss retaliation against the Indians, and to list the numbers of forts, men and supplies which would be vital to the war effort.
In March, we find evidence that McColloch was involved in land near Pittsburgh.
Deed Book 1-C, Washington County, March 1777.
"Between Dorsey Penticost, John Canon, Andrew Robinson, Samuel McColloch and Ebenezer Zane all of Ohio County as co-partners of the Ohio Trading Company members and purchases from Capt. Paul Froman, a tract, plantation, and improvement on Saw Mill Run one mile above Pittsburgh. Whereas Col John Neville was a co-partner with Froman and with him in the army of the United States, and Isaac Cox, Esq. relinquishes their right to Dorsey Penticost on April 15, 1778 and Penticost did get title to the 635 acres for 635 pounds. Now he sells to John Canon, Samuel McColloch and others for 317 pounds 10 shillings."
As a prelude to this topic, we must note the confused situation in Western Pennsylvania at this time. Because of a boundary dispute, most of Western Pennsylvania was claimed by both Pennsylvania and Virginia. Thus, there were two sets of laws governing this area, and one could, it seems, choose to follow the law giving the most advantage at a given time.
The problem concerns land warrants, that is, land given to individuals by the government for military service.
One could dispose of this land in any way he chose. In Pennsylvania, several tracts of warrant land could be combined, bought, or sold legally. But, in Virginia, the practice of land-jobbing, as it was called, of forming a company to combine and sell warrants, was illegal. So, it is with great interest that we read of Samuel McColloch and the others buying 635 acres from Dorsey Penticost at one-half pound per acre, half the price Penticost paid for it, and later selling the land at a sizeable profit. We do not know the circumstances, but Penticost lost 317 pounds on the deal. 1777 was a terrible year because of conflict with the Indians. Possibly Penticost could not sell his property, or live on it, and decided to sell it for whatever he could receive. He may have been a partner for this very reason. The legality of the sale is dependent upon which of the states' laws one follows. According to Pennsylvania, the transaction was proper; in Virginia, it was not.
---
PART TWO: Biography of Samuel McColloch
Did Major Really Leap?
- By RICHARD S. KLEIN and ALAN H. COOPER
(Wheeling Intelligencer, April 9, 1977 © Ogden Newspapers; reprinted with permission)
McColloch was part of another financial deal on May 6, 1777. We read:
"This will oblige me and my heirs to pay Burr Harrison in order the ... sum of 29 pounds ten shillings continental money of Pennsylvania on or before the first of August next being the amount due for 12 head of cattle now on Wheeling Island ... to pay at the same time 8 pounds same currency for all the hides belonging to said Harrison now in Wheeling Fort to be received from the commisary at the place. Samuel McColloch."
Harrison had sold the cattle and hides to Fort Henry but had not yet been paid for them. McColloch bought the cattle and hides which were in the possession of Francis Duke, the commissary. There are other references concerning money to be given later. The patter we see is that Ohio County was bankrupt, and that McColloch lent sums to it, or, as here, bought the supplies for himself. Also, through these transactions, we may notice the fluctuation of references to dollars and poounds. Dollars were used for part of 1777, but were replaced by pounds because of the poor state of the colonies' treasuries.
The final event of 1777 is, without doubt, one of the most famous exploits in military folklore. On September 1, Fort Henry was attacked by a band of 300 Indians. Calls for aid reached as far as Catfish Camp (Washington, Pa.), and included Van Metre's Fort, which Major McColloch commanded. On his way with 40 men, he was ambushed and, to escape, rode off or down Wheeling Hill. This deed is, unfortunately, not recorded in any documented report of the attack, or in accounts later related to historians. Nor does anyone record whether the leap took place at this time. Layman C. Draper believed that the leap occurred, but not as part of this siege. The leap is part of the history of this area, and, with the information we have about McColloch, seems to fit with recorded statements of his bravery. But, more factual information is not extant.
There is little on McColloch in 1778. This can be explained in part, by the declaration of martial law by Col. David Shepard, from June 2, 1777 until April 6, 1778. Records kept during this emergency were minimal. At the end of the year, on December 7, Samuel, John Canon and J. P. Duval petitioned the Virginia Senate concerning the status of Col. David Rodgers. Rodgers had been appointed County Lieutenant, an honorific title which had nothing to do with one's rank, on March 4, 1777, and had served in the Senate. Under intense Indian pressure, Rodgers left Ohio County for Fayette County, and finally moved to New York.
The action of McColloch and the others seems justified, in investigating Rodgers' status. Also, there may have been political motives on the part of the petitioners wich inspired the action. In any event, McColloch was appointed to the Senate the following year. Rodgers himself was eventually killed by Simon Girty somewhere near Cincinnati, on October 4, 1779.
In August of 1779, McColloch took part in Brodhead's Campaign. This action led by Gen. Daniel Brodhead and including Samuel's brother John, was intended to be a show of strength, and a chance to position more forts in the area, such as Fort MacIntyre.
Interviews conducted by Layman Draper with former militiamen acknowledged Samuel's presence. Jesse Ellis was 23 at the time of the campaign, and stated, "Col. John Gibson (commandant of Fort Pitt), Lt. Col. George Vanlandingham, and Major Samuel McColloch commanded the militia." The interview was recorded in 1845, when Ellis was eighty-nine years old.
The 1846 interview with Daniel Higgins also states, that, "a Major McColloch was put on the campaign." Higgins was born in 1758, and was eighty-eight when interviewed. He makes no further mention of McColloch, but does speak of Capt. Samuel Brady. It is interesting that these men recalled McColloch after 66 years. He must have made some impression. Also, we can understand the lack of mention, since a young soldier would be more liable to have contact with one closer in rank than a major.
Draper also interviewed Charles O'Bail, an Indian, the son of the half-breed Shawnee chief Cornplanter (named John O'Bail by the British), who was present on the other side. He mentions neither McColloch nor Brady. Another Indian, Capt. John Decker, was interviewed at the age of 100 or better. He makes no mention of McColloch. If McColloch were hated as fiercely as supposed, these adversaries might have remembered him more clearly.
Also in 1779, McColloch was the representative of Ohio County to the Virginia legislature. There is no other information on this appointment, or on McColloch's actions while serving.
As mentioned, above, McColloch's personal wealth bailed out Ohio County often. Mary Ogle collected the pension of her husband on Jule 2, 1777.
"Mary Ogle allowed pension her husband being killed in the service of the United States allowed the sum of twenty pounds and to draw on the treasury for the same."
In September of 1779, the County records the reimbursement of the pension to McColloch, who had loaned the money to Ogle.
"Pay Samuel McColloch eighty pounds allowed Mary Ogle for her husband being killed in the Continental service."
This eighty pounds represents the accrued sum, and reflects an increase in the pension to Ogle.
---
PART THREE: Biography of Samuel McColloch
History Is Very Skimpy
- By RICHARD S. KLEIN and ALAN H. COOPER
(Wheeling Intelligencer, April 16, 1977 © Ogden Newspapers; reprinted with permission)
Although John McColloch, Sr., had died in 1778, his son Samuel had to wait until May 14, 1780 to inherit his father's estate. As eldest son, he received everything. This evidence comes from a court martial which occurred in Hampshire County.
Next, Samuel McColloch and Frederick Prentling were cited in a civil suit, a peace bond, on September 5, 1780, with Prentling bearing the burden of keeping the peace.
Order Book 1, p. 97:
"Frederick Prentling and Samuel McColloch came into court and acknowledged themselves indebted to the Commonwealth in the Penalt sun of one thousand pounds on Prentling and McColloch in five hundred pounds on Proviso that Prentling keep the peace to next court."
As seen above, McColloch's military record is highly obscure. We know that he participated in the Coshocton expedition, April 10-28, 1781, because his pay is listed as $350.
"Payroll on ye expedition to Coshockton commg. 10 April and ending 28th inclusive 1781 for nineteen days ... Sam'l McColloch, Maj. $350."
Officers received a horse and forage also. The Coshocton Campaign was a show of strength and retaliation for incidents with the Indians.
About February 1, 1782, Samuel married Mary Mitchell, the daughter of Capt. John Mitchell, from whom Samuel had once purchased land. The actual date, and other information about the short marriage is not forthcoming. There were no children, and after Samuel's death, Mary married Col. Woods.
On April 5, 1782, McColloch attended a conference of field officers at Fort Pitt, following the Moravian massacre on March 6, in which John McColloch participated, and the replacement of Gen. Brodhead with Gen. Irvine. As Ohio County's sole representative, although it was allowed three, McColloch gave an inventory of supplies, but refused to provide troops since everyone was already in the Pennsylvania militia. This statement alludes to the fact that draftees could be sent anywhere, even across state lines.
The final event was Samuel's often recorded death on July 30, 1782. While on a scouting mission with his brother John, Samuel was killed when the two were ambushed about 2 p.m. near Girty's Point Hill. The Indians disemboweled Samuel and ate his heart, while John rode to Van Metre's Fort to seek help. The following day, Samuel's body was retrieved and buried in the fort.
We know that the Indians would not eat portions of those they despised, which again points to McColloch's esteem even among adversaries. Samuel's death may have been retribution for John's part in the Moravian massacre. Dehass interviewed an Indian who was a member of the group which killed Samuel. He is quoted as saying, "John McColloch had killed a great chief, and now we had killed a greater one of the white man."
Narcissa Doddridge's account of Samuel's death relates that Mary, his wife, was not present at Van Metre's Fort and that Samuel, seemingly having a premonition of his fate, gave his watch to his sister-in-law, John's wife, Mary Bukey McColloch. This information is based on Doddridge's interview with Mary many years later.
The seeming obscurity which dogged McColloch throughout his life carries over to his death. His traditional fame is not entirely supported by documentary evidence. The "Order Books," sources of much of our knowledge about all phases of life at that time, have only one reference to Samuel's death, in an entry fro May 5, 1783, ten months after the fact.
"Ordered that Zachariah Sprigg Gent. be recommended to his excellency the Governor as Major of the militia of this county in the room of Samuel McColloch deceased."
There are reports of officers who had been killed which were sent to the commanders of the Western Department at Fort Pitt. No report or letter yet found mentions McColloch.
From the above resume, one can see that the 32 years Samuel lived and especially the final five, were full. Recognized as an entrepreneur and soldier, he aided Ohio County repeatedly with money, military expertise and bravery. He undoubtedly is one of, if not the most famous frontiersman in Northern Panhandle history. It remains surprising that, in fact, little has survived concerning this remarkable individual.
The authors wish to point out that this record of McColloch's life is as complete as possible within the limits of time and space. Research such as this is an ongoing process, one which may never be totally completed. It is hoped that this article, and others like it, will inspire all to look with renewed interest at the people and events which shaped out lives today.
---
Major Samuel McColloch's Leap
-- from Pioneer Life in the West; comprising the adventures of Boone Kenton Brady Clarke....Philadelphia, The Keystone Publishing Co., 1890. p. 144-156.
A 19th century account of his leap down the mountainside into Wheeling Creek to escape pursuing Indians
We presume there are but few, if any, among our readers who are not familiar with the exploit of Putnam, in riding his horse down the steep declivity at Horseneck, in the endeavor to escape from the British troops. It is "famed in story;" has been illustrated time and again by the pen and pencil; has been dramatized, and in every conceivable form, presented to the public eye, until the merest schoolboy is as familiar with the incident as with his alphabet. Yet it is by no means comparable with the feats of a similar character, performed by men of less notoriety, but of equal strong nerve and desperate courage, which have not attracted a tithe of the admiration and eclat which have been vouchsafed to Putnam's exploit.
At the siege of Fort Henry, near Wheeling, by a band of Indians, under the infamous Simon Girty, Major Samuel McColloch performed an act of daring -- nay, desperate horsemanship -- which has seldom been equaled by man or beast, and before which the effort of the Pomfret hero pales into insignificance. Let us turn to the record.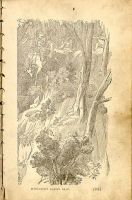 Fort Henry, situated about a quarter of a mile above Wheeling creek, on the left bank of the Ohio river, was erected to protect the settlers of the little village of Wheeling, which, at the time of its investment, consisted of about twenty-five cabins. In the month of September, 1775, it was invested by about four hundred warriors, on the approach of whom the settlers had fled into it, leaving their cabins and their contests to the torch of the savages. The whole force comprising the garrison consisted of forty-two fighting men who know the use of the rifle, and who were celebrated throughout the borders as the implacable enemies of the red man, and as the best marksmen in the world. Of these however, more than one-half perished in an ill-advised sortie before the siege commenced, and when the fort was surrounded by the foe, but sixteen men remained to defend it against their overwhelming numbers. -- But their mothers, vices and daughters were there, and nerved the Spartan band to deeds of heroism to which the records of the wars of ancient and modern history present no parallel. Here it was the Elizabeth Zane passed through the fire of the whole body of redskins in the effort to ring into the fort the ammunition so necessary to its defense; --here it was, also, that the wives and daughters of the noble defenders marched to a spring in point blank range of the ambuscaded Indians, in going to and fro, for the purpose of bringing water for the garrison.
Messengers had been dispatched, at the earliest alarm, to the neighboring settlements for succor, and, in response to the call, Captain Van Swearingen, which fourteen men, arrived from Cross Creek and fought his way into the fort without the loss of a man. Soon afterwards, a part of forty horsemen, led by the brave and intrepid McColloch, were seen approaching, and endeavoring to force their way through the dense masses of Indians which nearly surrounded the station. Their friends within the fort made every preparation to receive them by opening the gates, and organizing a sortie to cover their attempt. After a desperate hand-to-hand conflict, in which they made several of the Indians bite the dust, they broke through the lines, and entered the fort in triumph, without the loss of an individual. All, except their daring leader, succeeded in the effort. Her was cut off, and forced to fly in an opposite direction. McColloch was as well know to the Indians as to the whites for his deeds of prowess, and his name was associated in their minds with some of the most bloody fights in which the white and red men had contended. To secure him alive, therefore, that they might glut their vengeance upon him, was the earnest desire of the Indians, and to this end they put forth the most superhuman exertions. There were very few among their number who had not lost a relative by the unerring aim and skill of the fearless woodsman, and they cherished toward him an almost frenzied hatred, which could only be satisfied in his tortures at the stake.
With such feelings and incentives, their crowded around him as he dashed forward in the read of his men, and succeeded in cutting him off from the gate. Finding himself unable, after the most strenuous exertions, to accomplish his entrance, and seeing the uselessness of a conflict with such a force opposed to him, he suddenly wheeled his horse and fled in the direction of Wheeling Hill at his utmost speed. A cloud of warriors started up at his approach, and cut off his retreat in this direction, driving back upon another party who blocked up the path behind; while a third closed in upon him on one of the other sides of the square. The fourth and open side was in the direction of the brow of a precipitous ledge of rocks, nearly one hundred and fifty feet in height, at the foot of which flowed the waters of Wheeling Creek. As he momentarily halted and took a rapid survey of the dangers which surrounded him on all sides, he felt that his chance was indeed a desperate one. The Indians had not fired a shot, and he well knew what this portended, as they could easily have killed him had they chosen to do so. He appreciated the feeling of hatred felt towards him by the foe, and saw at a glance the intention to take him alive if possible, that his ashes might be offered up as a sacrifice to the manes of their friends slain by his hand. This was to die a thousand deaths, in preference to which he determined to run the risk of being dashed in pieces; and he struck his heels against the sides of his steed, who sprang forward toward the precipice. The encircling warriors had rapidly lessened the space between them and their intended victim, and, as they saw him so completely within their toils, raised a yell of triumph, little dreaming of the fearful energy which was to baffle their expectations. As they saw him push his horse in the direction of the precipice, which they had supposed an insurmountable obstacle to his escape, they stood in wonder and amazement, scarcely believing that it could be his intention to attempt the awful leap, which was, to all appearances, certain death. McColloch still bore his rifle, which he had retained, in his right hand, and carefully gathering up the bridle in his left, he urged his noble animal forward, encouraging him by his voice, until they reached the edge of the bank, when, dashing his heels against his sides, they made the fearful leap into the air. Down, down they went with fearful velocity, without resistance or impediment until one-half the space was passed over, when the horse's feet struck the smooth precipitous face of the rock, and the remainder of the distance was slid and scrambled over until they reached the bottom alive and uninjured. With a shout which proclaimed his triumphant success to his foe above him, McColloch pushed his steed into the stream, and in a few moments horse and rider were seen surmounting the banks on the opposite side.
No pursuit was attempted, nor was a shot fired at the intrepid rider. His enemies stood in awe-struck silence upon the brow of the bank from whence he had leaped, and, as he disappeared from their view, they returned to the investment of the fort. They did not long continue their unavailing efforts, however, for its capture; the numerous additions it had received to its garrison; the fearlessness exhibited in its defense, together with the feat they had witnessed, disheartened them, and they beat a hasty retreat on the morning after the event I have attempted to describe -- not however, until they had reduced to ashes the cabins without the stockade, and slaughtered some three hundred head of cattle belonging to the settlers.
---
Photos of McColloch's Leap and Monument
---
Biographies Index | People of Wheeling Home | Wheeling History Home | OCPL Home