VITA: Volunteer Income Tax Assistance
---
The Tax Service at the Library will begin this year on January 24. Taxes will once again be done by drop-off and appointment only. The first step in the process is to pick up a packet provided by the VITA service. Packets will be available outside the main entrance to the Library during the hours the volunteers are here (see hours below). All the information regarding making appointments and completing your taxes is containing with the packet. The last day to drop off your packet will be April 9th, 2022.
Starting Monday, January 24:
You can pick up a drop-off packet during the following hours:
Monday: 10 am - 5 pm
Tuesday: 1 pm - 5 pm
Wednesday: 10 am - 5 pm
Thursday: 10 am - 3 pm and 5 pm to 8 pm
Friday: 10 am - 4 pm
Saturday: 10 am - 2 pm
To speak to the VITA volunteers directly, please call 304-232-8985.
***Last day for drop-offs is April 9th, 2022. ***
If you need assistance at any point, contact VITA directly. Please note that the VITA program is independent of the Library and Library staff will not be able to answer questions. All questions regarding taxes need to be directed to VITA. You may call them directly at 304-232-8985 during the hours listed above.
VITA will be helping people complete their 2021 taxes this year between January 24th a and April 9, 2022.
---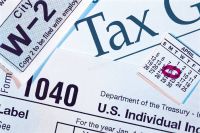 Free tax help is available every year at the Ohio County Public Library through the Volunteer Income Tax Assistance (VITA) Program. This is a volunteer service and not a part of the Library. Though VITA sets up its service in the Library every year, VITA is not a Library program or service. They are an organization independent of the Library. Library staff do not have access to any of the tax information or records and cannot answer questions related to the VITA program. All questions regarding the VITA program must be directed to the on-site VITA volunteers during their open hours at 304-232-8985.
The VITA program usually starts near the end of January and finishes on the last day of tax season. The VITA program is located in the Meeting Room (next to the elevator) on the lower level of the Library.