Civil Service Testing
Testing Information | Study Guides for Civil Service Tests
---
As of 2020, the West Virginia Department of Personnel is no longer conducting Civil Service tests in person at the library.
If you are applying for a WV government job and fill out an online application for one or more positions indicated with a "T" or "P", a notification will be sent to you via CourseMill stating, "You have been registered as a user in the State of West Virginia Public Learning Center for Civil Service Testing." Please note that the preferred browser is Firefox. (Effective 8/03/20)
WVDP Staff will register you for testing and written instructions will be provided to you approximately within 10 days of receipt. A separate email will notify you when an exam has been assigned for you to take the test. Only one USERNAME/PASSWORD notification will be issued by the state for to use for all exams. You will log in at www.onlinelearning.wv.gov/student to take your test once you have received your notification and username/password.
The Division of Personnel's Applicant Services unit can be reached directly at 304-558-3950, extension 1.
For more information on how to apply for WV State jobs or to register online, visit: https://personnel.wv.gov/job_seekers/Pages/default.aspx
To view all currently available state jobs, visit: https://www.governmentjobs.com/careers/wv
---
Civil Service Exams Guides and Practice Tests
We have several Civil Service Exam study guide books at the Library. Many of the guides include practice exams in addition to exam prep for the math, verbal, and clerical exercises. Our study guides are generally located in our closed stacks section and need to be asked for at the reference desk.
➤ View the Civil Service Exam Guide books available at the Library
Have an OCPL library card? You can get study guide ebooks online through our digital services.
➤ View the Civil Service Exam Guide e-books available through WVDeli
➤ New to WVDeli? View our Getting Started with WVDeli page.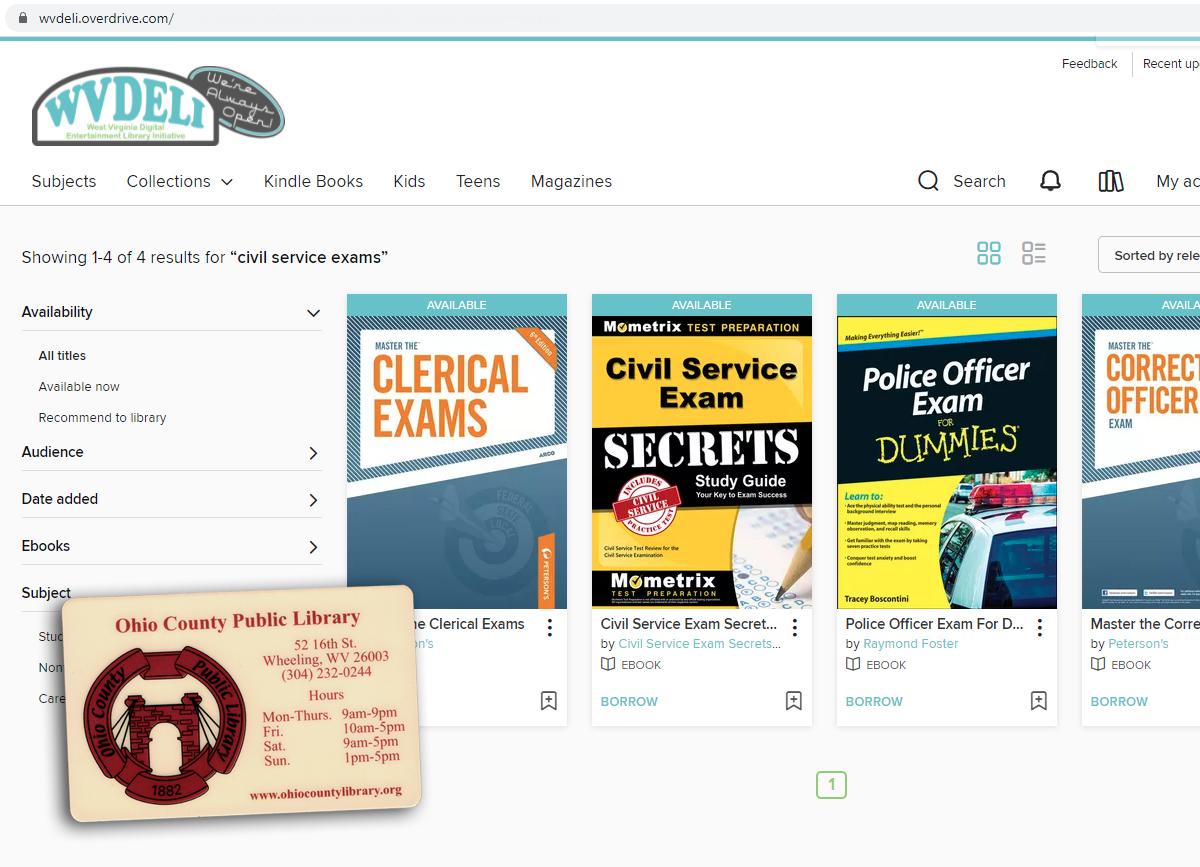 ➤ View the Civil Service Exam Guide e-books available through Hoopla
➤ New to Hoopla? View our Getting Started with Hoopla page.
Civil Service Test Exams through WVInfoDepot
WVInfoDepot.org provides access to millions of magazine and newspaper articles, ebooks, digital images, test preparation, primary source materials, and more. WVInfoDepot.org is funded by the federal Library Services and Technology Act (LSTA) via the Institute of Museum and Library Services (IMLS) through the West Virginia Library Commission. Additional resource funding is provided by the State of West Virginia.
One of the services provided through WVInfoDepot is Ebsco's Learning Express Library which offers online academic and career practice tests. Areas covered include SAT preparation courses, SAT practice exams, civil service, cosmetology, EMS, firefighter, GED, law enforcement, military, postal services, real estate, U.S. citizenship, and more.
NOTE: You will have to create an account to access classes and practice test through Learning Express. Once you create an account, make sure "West Virginia Library Commission" is selected as your institution. You should see the WVLC logo in the upper corner of the screen. If you are having trouble accessing Learning Express, call the Library at 304-232-0244 and ask to be connected to the Reference Desk for assistance.
➤ View the classes & tests available through Learning Express Library courtesy the WV Library Commission. To view resources for Civil Service Exams, from the home page, click on "Career Preparation," then find "Prepare for Civil Service Exams" from the drop down list and click the link. "Civil Service Practice Exams," "Civil Service Exam Prep eBooks," "Postal Worker Exam Practices," and "Postal Worker Exam Prep eBooks" links will be available from the drop down list.