Outreach and Home Delivery Services
---
Outreach Services Specialist: Julia Bachmann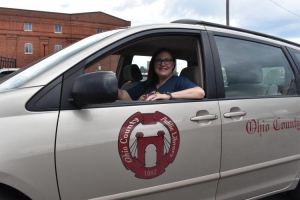 Ohio County Public Library's Outreach Services program provides home delivery of library materials to temporarily or permanently homebound patrons throughout Ohio County. Being an outreach patron means that books and library materials are delivered DIRECTLY TO YOUR DOOR.
If you live in a local high-rise or retirement home, Ohio County Public Library outreach services will visit your facility twice each month, according to a regular schedule. Outreach patrons in private residences simply call to schedule a convenient delivery time.
Schools and daycare centers are also eligible for outreach services. Monthly book selections are delivered according to a regular monthly schedule.
---
Home Delivery - Right to your door!
Any borrowable library material can be delivered to you including:
➤ Books—regular or large print
➤ Audiobooks
➤ Music CDs
➤ Movies
➤ Magazines
Patrons may request specific items or request the outreach services specialist choose items for them according to the patron's own preferences.
---
Additional Services
A full range of library services are available to adult and children's outreach patrons including:
➤ On-line catalog
➤ Reader's advisory
➤ Renewals, requests, and reserves
➤ Inter-library loan
➤ Reference assistance
➤ E-reader assistance
➤ Book Club facilitation or assistance
➤ Notary service
➤ Extended borrowing - 1 month!
➤ Fine free borrowing
---
Sign up for Home Delivery Services
PLEASE NOTE: The Ohio County Public Library Outreach Program exists to provide delivery of library materials to patrons throughout Ohio County who are either temporarily or permanently unable to access the library due to illness, disability or other limitation.
For more information, or to apply for services over the phone, Ohio County Public Library at 304-232-0244 and ask to speak to the Outreach Services Specialist, Julia Bachmann.*
*NOTE: Due to the nature of Outreach Services, Julia may be out of the library. If this is the case, please leave a message and she will return your call as soon as possible.
---

---
June 2022 Outreach Services Schedule
---