Main Street Bridge
---
The Main Street Bridge, crossing Wheeling Creek between 16th and 20th Streets, was built 1891 and 1892. The bridge features a 159 ft. arch, the stone of which was cut at a stone yard at 29th and Eoff Streets. To create the arch, a large wooden arch was first constructed as a base to support the stones used to construct the permanent arch structure. When the placement of the keystone (see photo below) was placed to lock the stones together, the wooden support arch was removed.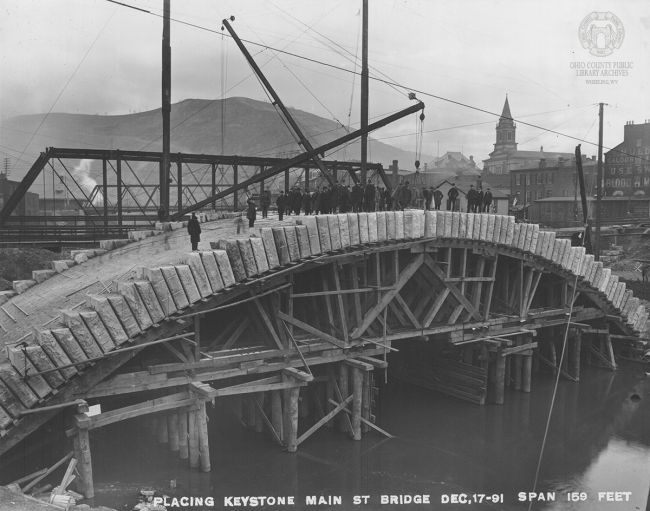 - image from the W.C. Brown Photo Collection [photo #76] of the Ohio County Public Library Archives
NEWSPAPER ARTICLES ABOUT THE BUILDING OF THE MAIN STREET BRIDGE
---
▶ Three articles on contruction: November 3, 1891
▶ Keystone Placed: December 18, 1891
▶ Bridge Sinks Two Inches; Reports Bridge Alright: March 10 & 11, 1892
The superintendent of construction, Dominick Carey, of the contracting firm of Paige, Carey & Co, New York, was in a tragic accident nearing the end of construction.
▶ Read the Intelligencer article covering Mr. Carey's drowning
---
The new Main Street Bridge is visible next to the temporary bridge in this 1892 photo from the W.C. Brown Collection: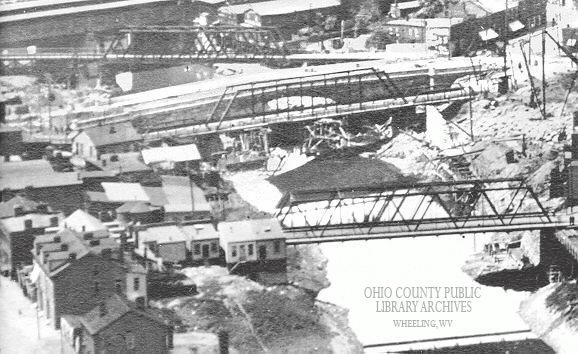 - image from a close-up detail from circa 1890 Photograph 75 in the W.C. Brown Collection of Ohio County Public Library Archives
The Main Street bridge is the longest single-span stone bridge in the US (Pavilack and Fluty, 1990).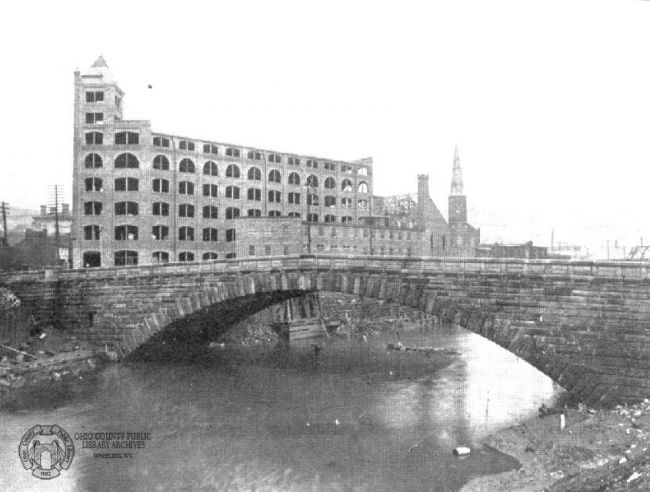 - image from Souvenir History of Wheeling : Philadelphia: Pictorial Publishing, 1906, OCPL Archives
---
Modern Images
---