Old Wheeling Hospital: Demolished 1997
---
Old Wheeling Hospital, located at 109 Main Street was demolished in 1997 after more than 100 years of service.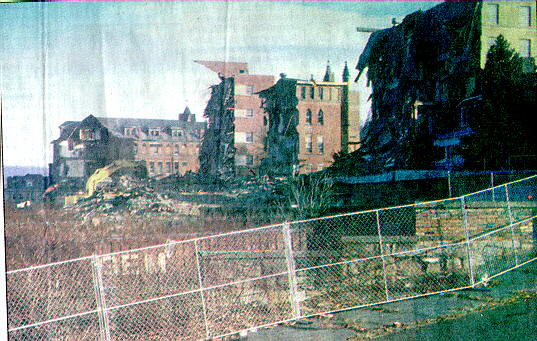 The new hospital, in use since 1975, lies adjacent to I-70 at Medical Park.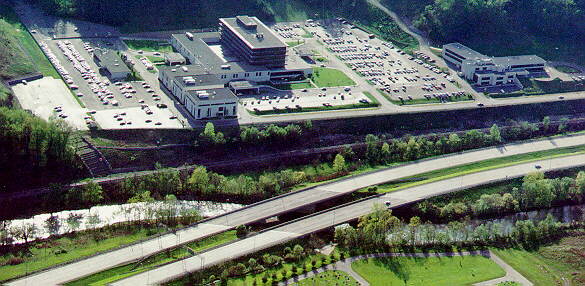 The Medical Park location has expanded since its opening, adding several new wings and out-buildings.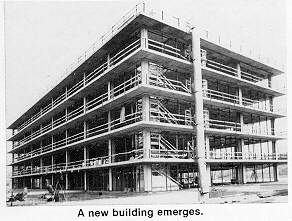 The original Wheeling Hospital was at 110 - 15th Street around 1850. It was first established by Dr. Simon P. Hullehen and by Roman Catholic Bishop Richard V. Whelan.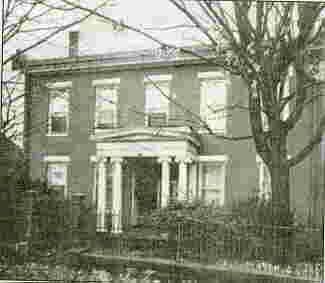 ---
Wheeling Hospital's Evolutionary Growth:
---
1850.... Original hospital founded.
1856.... 50 beds added, Sisters of St. Josephs assigned as nurses.
1864.... Used as a military hospital during the Civil War.
1892.... 90 beds added.
1900.... School of nursing established.
1903.... North wing added, 35 more beds.
1914.... South wing added, 75 more beds.
1928.... 230 more beds, x-ray dept, and delivery rooms added.
1947.... New school of nursing built.
1948.... New physical therapy department.
1950.... New outpatient department.
1962.... 41 beds added, new maternity ward, operating and recovery rooms, modern kitchen, new central service department, and the board of directors opened up to members of all faiths.
1963.... New intensive care unit.
1965.... Emergency room triples in size.
1966.... New coronary care unit.
1967.... New orthopedic department.
1968.... New maternity dept., admissions and diagnostics, and laboratories added.
1975.... Medical Park Hospital established.
---
SOURCES
---
- Information taken form article from January 19, 1997, The Times Leader, Martins Ferry Ohio
© Ogden Newspapers; reprinted with permission
- Photos by T.L. staff member Mike McNelland and Wheeling Hospital.
- Web Page by OCPL staff member James D. Janos.
---
Wheeling Hospital | Hospitals | Places of Wheeling Home | Wheeling History Home | OCPL Home