People's University Livestream: Series 34 - Fairy Tales for Grown-Ups
---
Starts February 17, 2022
For the Winter session 2022, People's University at the Ohio County Public Library will offer a series on the origins of familiar fairy tales. Patrons are invited to gather around the campfire beneath a canopy of stars and planets to travel back in time to the early days of human story sharing for six Thursday evening sessions starting February 17 at 7 PM.
How are these stories different?
Most of us consider fairy tales to be stories for children, innocent and without real evil or harm. But what's lesser known is that most fairy tales were originally written for adults — and were much more grim and gruesome than those of our childhood. Many of the fairy tales that are still retold today date back to the 17th century and earlier. Favorites like Beauty And The Beast and Rumpelstiltskin are at least 4,000 years old. As these tales were passed down from one century to the next, they were often altered to remove some of the more ghastly and frightening elements, making them more appropriate for a younger audience. However, when we delve back into the fairy tales of our childhood as adults, we can rediscover our heroes and princesses from a different perspective. These often disturbing yet enchanting tales can still yield useful lessons about life for us grown-ups when we take a deeper look at these stories.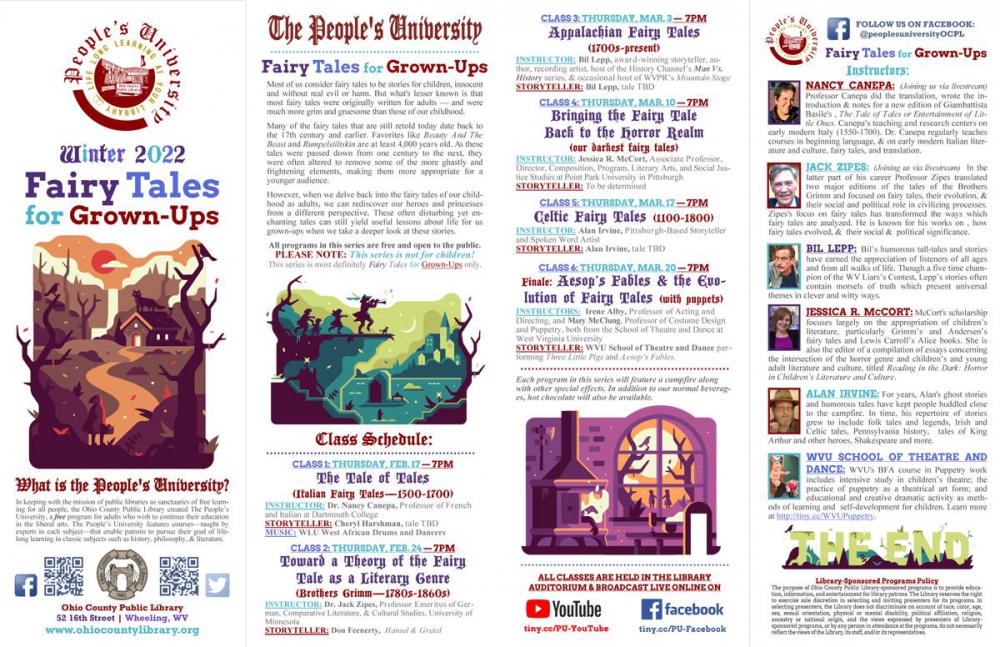 Each program in this series will feature a campfire along with other special effects. In addition to our normal beverages, hot chocolate will also be available. All programs in this series are free and open to the public.
PLEASE NOTE: This series is not for children! This series is most definitely Fairy Tales for Grown-Ups only.
➤ Download a .pdf file of the brochure or stop by the Library to pick up a paper copy.
All classes will start at 7:00 pm in the Library Auditorium. The programs will be available to watch live on Facebook Live, on YouTube, and on the OCPL website's People's University: Fairy Tales for Grown-Ups. Log into your Facebook or YouTube account during the program to leave questions for our instructors in the comments box. They will answer them during the live broadcast.
---
Full Schedule:
Feb. 17, 2022 at 7 PM: PU Fairy Tales, Class 1-"The Tale of Tales"
INSTRUCTOR: Dartmouth Professor of French and Italian, Nancy Canepa (by livestream on screen).
Music: West Liberty University West African Drums and Dancers
Storyteller: Vince Marshall, "The Ogre"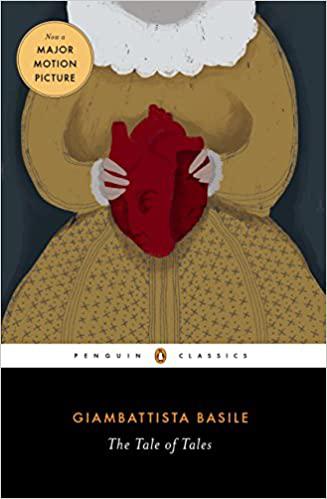 Professor Canepa did the translation, and wrote the introduction, and notes for a new edition of Giambattista Basile's collection, "The Tale of Tales or Entertainment of Little Ones." Canepa's teaching and research centers on early modern Italy (1550-1700). She is particularly fascinated by the development of new literary forms and languages during this period, in genres that range from the fairy tale to the mock epic to the travelogue. Related interests include seventeenth-century Naples, dialect literature, the history of the European fairy tale, and translation. Dr. Canepa regularly teaches courses in beginning language, and on early modern Italian literature and culture, fairy tales, and translation
➤ View full program details
➤ View Facebook event
FEATURED BOOK:
The Tale of Tales; or, Entertainment for Little Ones, by Giambattista Basile; translated with an introduction and notes by Nancy L. Canepa; foreword by Jack Zipes (Penguin Books, 2016).
---
INSTRUCTOR: Jack Zipes, professor emeritus of German, comparative literature, and cultural studies, and folklore (by livestream on screen).
Storyteller: Don Feenerty, "Hansel And Gretel"
In the latter part of his career, Professor Zipes translated two major editions of the tales of the Brothers Grimm and focused on fairy tales, their evolution, and their social and political role in civilizing processes. Zipes's focus on fairy tales has transformed the ways which fairy tales are analyzed. He is known for his lectures and published works on fairy tales, how they evolved, and the social and political significance of those works.
Zipes holds a PhD in comparative literature. His political activism in the late 1960s lead to his interest in critically analyzing fairy tales. While fairy tales are often perceived as just children's stories, Zipes scholarly work examines their social and political roles in society. Fairy tales have a "meaningful social function not just for compensation but for revelation: the worlds projected by the best of our fairy tales reveal the gaps between truth and falsehood in our immediate society" (Zipes).
➤ View full program details
➤ View Facebook event
FEATURED BOOK:The Irresistible Fairy Tale: The Cultural and Social History of a Genre, by Jack Zipes (Princeton University Press, 2012).
---
INSTRUCTOR & STORYTELLER: Bil Lepp
"Just as New Jersey has Bruce Springsteen, West Virginia has…Bil Lepp." – Goldenseal Magazine
Bil Lepp is an award-winning storyteller, author, and recording artist. He's the host of the History Channel's Man Vs History series, the occasional host of NPR's internationally syndicated Mountain Stage, and a contributing columnist to the West Virginia Gazette-Mail. Bil's humorous tall-tales and stories have earned the appreciation of listeners of all ages and from all walks of life. Though a five-time champion of the WV Liars's Contest, Lepp's stories often contain morsels of truth which present universal themes in clever and witty ways. Audiences all across the country, from grade schools to corporate execs to the Comedy Central's Hudson stage, have been delighted by Bil's mirthful tales and delightful insights into everyday life. Bil's books and audio collections have won awards including the PEN Steven Kroll Award for Children's Book Writing, Parents' Choice Gold awards, and awards from the National Parenting Publications Assoc., and the Public Library Assoc. He is also the recipient of the Vandalia Award, West Virginia's highest folk honor.
➤ View full program details
➤ View Facebook event
FEATURED BOOK:
The Monster Stick & Other Appalachian Tall Tales, by Bil Lepp (August House Publishers, 1999).
---
INSTRUCTOR: Jessica R. McCort, Associate Professor, Director, Composition, Program, Literary Arts and Social Justice Studies, Point Park University
Storyteller: TBA
Jessica McCort, Ph.D., is an associate professor of composition and rhetoric in the Department of Literary Arts and Social Justice at Point Park University. McCort earned a Ph.D. in English and American literature from Washington University in St. Louis, specializing in American literature and women's writing. McCort's scholarship focuses largely on the appropriation of children's literature, particularly Grimm's and Andersen's fairy tales and Lewis Carroll's Alice books, by American women writers. She is also the editor of a compilation of essays concerning the intersection of the horror genre and children's and young adult literature and culture, titled Reading in the Dark: Horror in Children's Literature and Culture.
➤ View full program details
➤ View Facebook event
FEATURED BOOK:
My Mother She Killed Me, My Father He Ate Me: Forty New Fairy Tales, edited by Kate Bernheimer (Penguin Books, 2010).
---
INSTRUCTOR & STORYTELLER: Alan Irvine, Professional Pittsburgh-based Storyteller
For years, Alan's ghost stories and humorous tales have kept people huddled close to the campfire. In time, his repertoire of stories grew to include folk tales and legends, Irish and Celtic tales, Pennsylvania history, tales of King Arthur and other heroes, Shakespeare and more. Alan tells his tales at many diverse venues including libraries, schools, colleges, and festivals. He was a Commonwealth Speaker for the Pennsylvania Humanities Council for many years. He has appeared at Renaissance Festivals, Irish Festivals, and science fiction conferences. Alan also leads walking tours of Pittsburgh. He works with Pittsburgh Shakespeare in the Parks, where he tells stories of Shakespeare's plays, as well as hosting the popular Bring Your Own Bard reading series. He is the co-founder of Brawling Bard Theater, a troupe specializing in high-energy comedy and stage combat. Alan writes and directs for the company.
➤ View full program details
➤ View Facebook event
FEATURED BOOK:
Treasury of Irish Myth, Legend & Folklore, compiled and edited by Claire Booss (Crown Publishers, 1986).
---
INSTRUCTORS: Irene Alby, Professor of Acting and Directing, and Mary McClung, Professor of Costume Design and Puppetry, both from the School of Theatre and Dance at West Virginia University
STORYTELLERS: WVU School of Theatre and Dance, Three Little Pigs and Aesop's Fables
WVU's BFA course work in Puppetry includes intensive study in children's theatre; the practice of puppetry as a theatrical art form; and educational and creative dramatic activity as methods of learning and self-development for children. In addition to a broad-based curriculum in theatre studies, students work under the direction of a faculty member to operate a complete puppetry theatre with comprehensive study in a variety of construction, manipulation, historical study, and performance techniques. The School's Puppet Mobile tours the region while children's theatre productions provide hands-on experience and performance opportunities.
➤ View full program details
➤ View Facebook event
FEATURED BOOK:
Fractured Fables, (a graphic novel) edited by Jim Valentino and Kristen K. Simon (Shadowline, 2010).
---
ABOUT THE OCPL'S PEOPLE'S UNIVERSITY SERIES:
In 1951, the Ohio County Public Library's librarian, Virginia Ebeling, referenced British historian Thomas Carlyle, who said, "the public library is a People's University," when she initiated a new adult education program with that name. Miss Ebeling charged the library with the responsibility of reaching "as many people in the community as possible." In keeping with that tradition of public libraries as sanctuaries of free learning for all people, the Ohio County Public Library revived the series in 2010.
The People's University features courses (taught by experts in each subject) that enable patrons to pursue their goal of lifelong learning in classic subjects such as history, music appreciation, philosophy, and literature. Patrons may attend as many classes as they wish. There are no tests of other requirements and all programs are free and open to the public. For more information about PU: Fairy Tales for Grown-Ups, EMAIL US, visit ohiocountylibrary.org or call the library at 304-232-0244.