Wheeling Hall of Fame: Bernie Mehen
1918-2007
Sports
---
Inducted 1992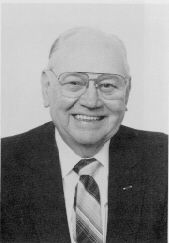 "As a ball-handler, Bernie Mehen was ahead of his time. He was a marvel. He could fake players right out of their shoes. There just wasn't anything he couldn't do with the basketball. He and his brother, Dick, were the greatest players I ever coached." — Everett Brinkman, a member of the Wheeling Hall of Fame and the West Virginia Sports Hall of Fame.
Bernard "Bernie" Mehen is a legendary figure in the history of basketball at old Wheeling High School. He played on two state championship teams — in 1936 and '38 — and was outstanding as a scorer, rebounder, and ball-handler.
During his high school career, the Wheeling High teams, coached by Everett Brinkman, won a total of 65 games and lost only four. In his senior year, when he was joined by his "kid" brother, Dick, then a sophomore, in the lineup, the Gold and Blue went 24-0.
Those state champion teams were also titlists in the old Ohio Valley Athletic Association, something of a forerunner to the now thriving OVAC. The '38 team established a record for victory margin in the championship game by trouncing Grafton, 68-41, in the final. All-stater Bernie Mehen scored 493 points that season.
The eldest of the Mehen brothers, who were natives of Wheeling, went on to play at the University of Tennessee and in professional ranks.
At Tennessee, the slender 6-3 Bernie Mehen received considerable All-American recognition, in addition to making the All-Southeastern Conference team. In 1941, he led Coach John Mauer's Volunteers to the SEC championship with a 36-33 victory over the famed Adolph Rupp's favored Kentucky Wildcats in the finals of the conference tourney at Louisville, Ky.
The 1942 season was Bernie Mehen's last as a Tennessee star and he performed so brilliantly that when the Knoxville Journal later established an all-time University of Tennessee squad, he was picked as one of the five men on the Early Era (1933-63) team.
Brother Dick Mehen followed Bernie to Tennessee but his career there was interrupted by service in the air force in World War II. Bernie was a second lieutenant in the infantry during the war and saw action in France, Belgium, and Holland before his left heel was shattered by an artillery shell at Aachen, Germany.
Sent back to Camp Blanding, Fla., Mehen was convalescing slowly but one day decided to take his cane and limp over to the post gymnasium. The first trip was extremely painful but he persevered. Eventually, he was able to join the Blanding team, even though he could not leap off his left foot at all.
The Wheeling native improved so much that the owner of the Youngstown Bears of the old American Basketball League offered him a contract. He tried and succeeded. Unfortunately, the franchise didn't.
Subsequently, Bernie returned to Wheeling and played with the Center Wheeling Merchants, where Wheeling and West Virginia Sports Hall of Famer Jule Rivlin was among his teammates. When Rivlin was made player-coach of the Toledo Jeeps of the National Basketball League, he sent for the Mehen brothers. Bernie's ball-handling made him an immediate hit.
Bernie and his wife, Lucille, started raising a family and when the franchise was moved to Waterloo, Ia., Bernie decided to concentrate on his job as an appliance salesman at a Toledo store.
Born in Wheeling on September 19, 1918, Bernie Mehen passed away May 11, 2007.
---
Text and pictures provided by Wheeling Hall of Fame. Service provided by the staff of the Ohio County Public Library in partnership with the Wheeling Hall of Fame Committee.
Hall of Fame Index | People of Wheeling Home | Wheeling History Home | OCPL Home