Wheeling Hall of Fame: Levering C. Bonar
1896-1978
Religion and Education
---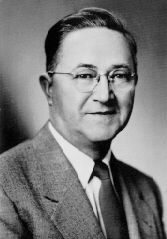 Inducted 1980
The progress of education in the public schools of Ohio County parallels the career of Levering C. Bonar.He started teaching in a one-room school and worked his way up through the ranks. Ultimately, his years of experience were put to use as superintendent of Ohio County Schools.
For a period of 54 years, Levering Bonar was an educator - teacher, principal, assistant superintendent, superintendent, and college instructor.
Born October 1, 1896, the son of David and Catherine Virginia Parsons Bonar, he attended rural schools in Marshall County, spent his high school years at West Liberty State Normal, received his bachelor's degree from Marshall College, and his master's degree from the University of Pittsburgh.
His first job was at Meighen School on Fish Creek in Marshall County in 1914. He began with 29 students in eight grades and later became head man in a system with 9,282 students.
Bonar taught in Marshall, Brooke and Ohio Counties and also served as principal at a junior high in Beckley. He was principal at Warwood High for 12 years, assistant superintendent in Ohio County for 19 years, and finally became county superintendent - a position from which he retired in 1962.
His master's thesis in college was "A Study of School Buildings in Ohio County, West Virginia," and he always had a deep concern about the facilities and the curriculum of the public schools - as well as the students who learned and the teachers who taught.
A World War I army veteran, Mr. Bonar also served as mayor at Valley Grove. He died in 1978 after having seen Ohio County schools make tremendous strides and much of what he had envisioned finally being realized.
---
Text and pictures provided by Wheeling Hall of Fame. Service provided by the staff of the Ohio County Public Library in partnership with and partially funded by Wheeling National Heritage Area Corporation.
Wheeling Hall of Fame Index | People of Wheeling Home | Wheeling History Home | OCPL Home