Wheeling Hall of Fame: Dr. William S. Fulton
1873-1938
Business and Industry
---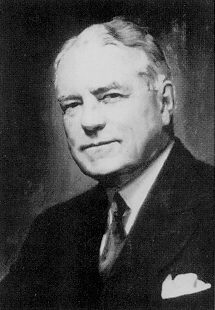 Inducted 1986
A man of strength, foresight and high spirits, Dr. William Stuart Fulton lived in Wheeling and practiced medicine in the city for upwards of 40 years. He was an outstanding physician and surgeon but his greatest contribution was doubtlessly the establishment of Wheeling Clinic.
The original plot of ground purchased by Dr. Fulton was an area 60 feet by 60 feet at Sixteenth and Eoff Sts. The so-called "Old Building" was completed and opened on July 1, 1924, at a cost of $180,412, all of which was financed by loans and capital advanced by Dr. Fulton.
In the clinic, Dr. Fulton gathered around him young men, trained as specialists, and gave them a free hand to practice their professions. He inspired them to special efforts, he provided them with means of investigation and study, and developed a medical center rare for a city the size of Wheeling. In developing Wheeling Clinic, he contributed his means, his strength and long hours of continuous work.
In the beginning years, office hours at the clinic were from 8 a.m. to 5 p. m. six days a week, with evening hours from 7 to 9 p. m. and with Sunday hours from 1 to 4 p. m.
Since there were relatively few surgeons in the smaller towns in the surrounding area who did major surgery, clinic surgeons were constantly called to operate in hospitals as far away as East Liverpool on the north, Parkersburg on the south, Cambridge on the west, and Washington, Waynesburg, Morgantown and Philippi on the east. Frequently, they did surgery at night "on the road" after completing their day's work in Wheeling.
Dr. Fulton's professional efforts were not confined to the clinic. He was a member of staff at Wheeling Hospital and Ohio Valley General Hospital and a consulting member of the staff of Reynolds Memorial Hospital. He served on the West Virginia Board of Health, was president of the W. Va. Medical Association in 1937, and was a governor of the American College of Surgeons. To every branch of his professional work, he gave enthusiastic leadership.
Dr. Fulton was born in St. Clairsville, Ohio, on Feb. 3, 1873, the son of Walker and Ellen Fulton. He was graduated from medical school at Ohio State University in 1899. He married Martha McElhenny Clarke, daughter of A. J. Clarke, a lawyer in Wheeling, and three children -- Clarke, Martha, and Nancy -- were born of that union. One of those children, Nancy Fulton Bloch, wife of Thomas M. Bloch of Wheeling, survives.
Public spirited, Fulton was a prime supporter of many civic movements for the betterment of Wheeling and for the state of West Virginia. It was said of him that "he played hard, he worked hard, and poured out lavishly the strength, which might have sustained his life for many years to come, had he been more careful and more thoughtful of his own personal welfare."
When Dr. Fulton died in Wheeling on May 30, 1938, a lengthy newspaper editorial eulogized the clinic founder. The concluding paragraph of that editorial said, "It is given to few men to lead the life of abounding usefulness and activity that Dr. Fulton lived. He was, indeed, a rare character and we will not soon look upon his like again."
Today Wheeling Clinic is in the midst of a $2,250,000 expansion program. This is the fourth expansion since Dr. Fulton built the original building. In addition, the clinic operates satellites in Wellsburg, Martins Ferry, New Martinsville, Glen Dale and St. Clairsville. There are 50 physicians on the staff.
---
Text and pictures provided by Wheeling Hall of Fame. Service provided by the staff of the Ohio County Public Library in partnership with and partially funded by Wheeling National Heritage Area Corporation.
Wheeling Hall of Fame Index | People of Wheeling Home | Wheeling History Home | OCPL Home