Wheeling Hall of Fame: Leland S. Devore
1889-1939
Sports
---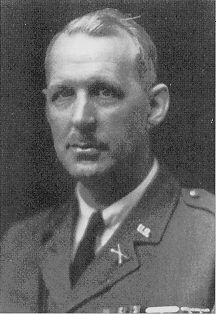 Inducted 1986
Leland S. Devore was Wheeling's first All-American football player.
A graduate of Wheeling High School, where he was an outstanding sports figure, Devore achieved stature as the finest athlete of his era at the Untied States Military Academy at West Point, N. Y. He went on from that milestone achievement to enjoy a long and distinguished career in the service of his nation.
A 6 ft. 4, 225-pound tackle, Devore made Walter Camp's All-American first team in 1911 in recognition of his outstanding performance on behalf of the Army team.
Camp, then recognized as the "official" All-American selector and the originator of such mythical teams, also selected Devore on his third team in 1912 -- a year when the Wheelingite was captain of the Cadet squad.
Devore was on the All-American squad at the same as Jim Thorpe, the all-time great from Carlisle Indian School, which was one of Army's opponents. Devore also played against Knute Rockne, of Notre Dame.
The Wheeling native not only was a stellar tackle at Army, where he played five seasons, but also drop-kicked extra points. He was also the heavyweight boxing champion at the academy, the silver medalist in heavyweight wrestling, and lettered in both baseball and basketball.
Devore, whose first station after being commissioned as a lieutenant was in the infantry at Fort McPherson, Ga., assisted in coaching the Georgia Tech team while in Georgia.
Devore accompanied Gen. John J. Pershing on the Pancho Villa expedition into Mexico in 1916. That was the first tactical move of the U. S. Army in which motorized transport trucks and cars were used and the Wheeling man was selected as the first motor transport officer in the army.
During World War I, he was an infantry officer in France. He was wounded and received the Purple Heart.
In 1920, he was ordered to Hawaii as a staff officer for the commanding general and while there took up football again as a member of the Army team, though past his playing prime.
Upon two occasions, Devore was stationed at West Virginia University as commandant of the cadets for the ROTC unit there. He was in Morgantown from 1922 to '26 and again from '35 to '39 and on both occasions served as a volunteer member of the football staff.
He died in Washington, D. C., while still on active duty as a Lieutenant Colonel in 1939.
Leland Swarts Devore was born in Wheeling in 1889, the son of Mr. and Mrs. Harvey Devore, who resided on Wheeling Island.
After making a name for himself at Wheeling High and then gaining national fame while at West Point, he returned to Wheeling after graduation and married Genevieve Welty, the daughter of Mr. and Mrs. John S. Welty.
Leland and Genevieve Devore had one son, Leland S. Devore, Jr., who was born in 1914 at 96 Twelfth St., Wheeling, and who also became an army officer. Genevieve Devore died in 1957.
---
Text and pictures provided by Wheeling Hall of Fame. Service provided by the staff of the Ohio County Public Library in partnership with and partially funded by Wheeling National Heritage Area Corporation.
Wheeling Hall of Fame Index | People of Wheeling Home | Wheeling History Home | OCPL Home